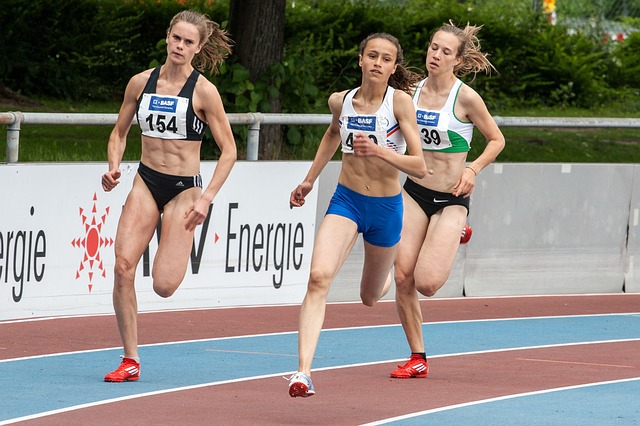 Body image can be described as your personal evaluation of self and others, based on body weight, shape, size, and appearance. It is connected to self-esteem and self-worth.
Athletics can play a role in how a student perceives their body shape, size, and its performance level.
Comparisons to others around body weight, shape, and size can also internalize unhealthy body image.
Through protective measures, athletes, with the support of loved ones, coaches, teammates, and friends can develop positive body image.
Research
In a study that looked at 231 college athletes and their view of body image and their sport was conducted. Researchers found that females perceive themselves as slightly overweight and would like to be thinner.
Males who were of average weight wanted to be larger, and those individuals who were overweight wished to be thinner [1]. The study showed a positive connection between sport and body image perception.
Sports can improve a sense of efficacy, self-determination, personal acceptance, and motivation but if risk factors are evident sports can lead to a detrimental body image and possible eating disorder.
Another study looked at female NCAA D 1, 2, and 3 athletes in basketball, softball, track/cross country, volleyball, soccer, tennis, swimming/diving, and ice hockey [2].
The study found that 49.2% of D1 and 40% of DIII athletes were considered to have an eating disorder. 24% and 30% of athletes also reported poor body dissatisfaction and D3 athletes reported higher bulimia behaviors and preoccupation with weight.
Female athletes are at a higher rate to have eating disorders than non-athlete peers [2]. Coaches, sponsors, family, and peers can play a role in an athlete's attitude toward weight and shape.
Negative comments from those who evaluate them can also be a risk-factor in disordered eating patterns.
Sports that are judged on body leanness, shape, movement such as ballet, gymnastics, figure skating, running, and diving tend to have a higher incidence of eating disorders, and more emphasis is placed on body image.
A Look at One Athlete
A then 17-year old Canadian athlete Rosie MacLennan was on the international stage; her only focus was on how she felt out-of-place compared to her 'smaller, thinner' competitors [3].
She is now a renowned athlete and states that it is her shape and healthy eating that helps her to be a significant competitor.
Social pressures, the pressure of physical condition, and expectations that athletes should have less fat and more muscle are common in sports. Typically athletes bodies are analyzed and studied more than a non-athletic individual.
They also measure themselves against each other, teammates, and other athletes regardless of if it is realistic or not.
Being able to support athletes and foster positive body image, coaches, parents, teammates, and others need to be able to emphasize that athletes bodies are not one-size-fits-all. Everyone's bodies are unique and different and offer variation to the sport.
A study by ESPN on D1 college students looked their perceptions about their body. Results showed that 54% exercise 15 hours or more to the physical conditioning of their body.
68% reported that they felt pressure to be pretty and it helps you get noticed with recruitment [4]
Body Image
Recent research has found that athletes are typically satisfied with their body image in social environments, but not within their sport.
Those who engage in sports that focus on leanness tend to have higher rates of disordered eating compared to those whose sport does not focus on body size and shape [5].
Many athletes have poor body dissatisfaction due to the motivation to have a lean build for athletic success.
It is essential for coaches and other sports professionals to obtain further education on effective skills to not promote unhealthy body image, dieting behaviors, and weight.
What do Do on a University Level
The NCAA developed a multidisciplinary team to create the Female Athlete Body Project. This program is a prevention program and typically run by a team at the college level [6].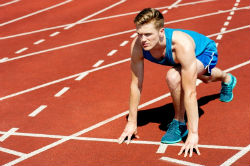 This program includes various exercises that focus on athletic specific healthy-ideal, how to balance physical, mental, and emotional health.
It also helps create discussions around strategies to increase the variety of foods and how to properly nourish the body. FAB also address the negativity of 'fat talk' and encourages an emphasis on athletic performance and maintaining health.
In conclusion, distorted body image is common in college athletes. It has many risk factors and pressures for an athlete to be lean to be successful in their sport.
Through education, prevention measures, and open, honest discussions about self-esteem, body image, and good ideas can help promote healthy body image.
Healthy body image can lead to protection of one's health, proper nutrition, and having the most healthy body to participate in their sport.
These positive factors can lead to stronger endurance, longer ability to practice and perform, as well as increase mental health factors as well.
---
About the Author: Libby Lyons is a Licensed Clinical Social Worker and Certified Eating Disorder Specialist (CEDS). Libby has been practicing in the field of eating disorders, addictions, depression, anxiety and other comorbid issues in various agencies. Libby has previously worked as a contractor for the United States Air Force Domestic Violence Program, Saint Louis University Student Health and Counseling, Saint Louis Behavioral Medicine Institute Eating Disorders Program, and has been in Private Practice.
Libby currently works as a counselor at Fontbonne University and is a Adjunct Professor at Saint Louis University, and is a contributing author for Addiction Hope and Eating Disorder Hope. Libby lives in the St. Louis area with her husband and two daughters. She enjoys spending time with her family, running, and watching movies.
---
References:
[1] Toselli, S., & Spiga, F. (2017, October 17). Sport practice, physical structure, and body image among university students. Retrieved November 18, 2017, from https://jeatdisord.biomedcentral.com/articles/10.1186/s40337-017-0163-1
[2] Academy, U. S. (2016, April 01). Body Image Disturbances in NCAA Division I and III Female Athletes. Retrieved November 18, 2017, from http://thesportjournal.org/article/body-image-disturbances-in-ncaa-division-i-and-iii-female-athletes/
[3] Don't let the gold medal fool you: Even Olympic athletes struggle with body image – CBC Sports. (2017, March 09). Retrieved November 18, 2017, from http://www.cbc.ca/sportslongform/entry/olympic-athletes-struggle-with-body-image
[4] Female College Athletes Get Honest About Body Image. (n.d.). Retrieved November 18, 2017, from https://www.muscleandfitness.com/muscle-fitness-hers/hers-features/female-college-athletes-get-honest-about-body-image
[5] The Athletic Body and Beauty: The Struggle of Eating Disorders Among Female Athletes. (n.d.). Retrieved November 18, 2017, from https://www.premiersportpsychology.com/sport-psychology/the-athletic-body-and-beauty-the-struggle-of-eating-disorders-among-female-athletes/
[6] S. (2015, February 24). The Female Athlete Body Project. Retrieved November 18, 2017, from http://www.ncaa.org/health-and-safety/sport-science-institute/female-athlete-body-project
---
The opinions and views of our guest contributors are shared to provide a broad perspective of eating disorders. These are not necessarily the views of Eating Disorder Hope, but an effort to offer discussion of various issues by different concerned individuals.
We at Eating Disorder Hope understand that eating disorders result from a combination of environmental and genetic factors. If you or a loved one are suffering from an eating disorder, please know that there is hope for you, and seek immediate professional help.
Published on January 3, 2018.
Published on EatingDisorderHope.com