Story of Hope Contributed by Kim Kerr-Youngker – The Meadows Ranch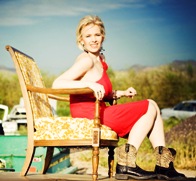 It was like a scene out of a medical television show. A smiling, happy, 32-year-old woman was driving her young daughter home on a beautiful sunny Saturday morning. Suddenly sharp pains start to shoot in her chest and down her arm.
She is so weak she has to lie on the steering wheel to hold herself up. Somehow she manages to pull off the road, stumble out of her car and proceeds to pass out on the side of the road. The scene that flashes is all about monitors beeping, doctors shouting and bright lights.
The eating disorder she had worked so hard to hide for years had found a way to be the star of the show. It was now a matter of life or death. The eating disorder (ED) had got a taste of fame, attention and was now at a new level of control. Sadly that glimpse of medical drama is not a television show, it was my reality show. It was my life.
It was time to change the channel, fire the director and cancel the program. It was time to get well or die. I had finally hit rock bottom and at the bottom is where I found God to be my solid rock which I built my recovery on. A few days after this medical crisis I was admitted to The Meadows Ranch in Wickenburg, Arizona for 90 days of inpatient treatment.
It was there that my recovery started to unfold. It was there that my healing began, and my hope was restored. It was during my time at The Meadows Ranch that I began to lay down the unhealthy and unrealistic demands I placed on myself. After so many years of the demands to be perfect, the strain had left me exhausted. My body, my faith, my joy, and my happiness were gone.
The reality is that there is no such thing as "perfect". I had bought into the lies and demands that our society places on women and girls. I had bought into the pressures to keep up the perfect appearance, the perfect looking house, the perfect family. All of it was just added pressure that slowly took my true identity away until I was left with just a shell of a person. ED has the power and the ability to rob a person of their identity, their family and any type of life.
I had allowed ED to have power and control over me."No more…I will not give ED one more day." I remember saying those words after getting a letter from a dear friend that had Ephesians 6:10-18 written in it. The words in that verse spoke to me, and I knew it was my time to fight. It was truly my chance to heal and live in recovery.
In Ephesians, scripture instructs me to cover myself in the Armor of God, to take up a shield of faith, put on the helmet of Salvation and take the sword of the Spirit. You see, I had been trying to battle ED on my own and that was not working. I had pushed my loved ones away. I had lost my faith and hope in God.
I had been alone up until that point. I was now covered in God's armor and prepared to fight the ED battle. I was ready to do whatever it took to win. I started to listen to those around me, and I slowly started to trust my treatment team. I made a commitment to myself that I would follow my meal plan and see my team regularly.
Slowly my body started to heal, and I started to feel better. My thoughts started to become more clear, and the constant state of confusion was gone. Even my energy started to return. Upon returning home from treatment, I felt like I was still wearing the protection and armor of God.
But, it was getting heavy, and I was starting to get weak. After awhile, the reality of life started to build up. I felt as if every eye was watching me and every move I made. Even months after being home, I really struggled.
The demands of being a mom to three young children, a wife, and a friend were almost too much to bear at times. I was physically better, but I was still broken. My mind raced with thoughts such as "My family would be so much better without me" or "How can God or anyone love such a damaged woman".
One afternoon it had become too much, and I tried to end my life. I was sure my family would be better without me. That was a sad and dark day. By the grace of God and quick acting medical teams, my life didn't end that day, in fact, it began that day. I knew I couldn't keep this up. I could no longer live "partially" recovered.
I had to be willing to lay down everything and truly heal all of me not just my physical body. It had got to the point where I had to fully trust and lay down all the fears I still carried. It was time to fully surrender to the healing and recovery process.
My family, friends and church family never gave up on me. Instead, they believed in me and with each day came a new little victory in my recovery. They all celebrated with me. They never gave up hope, and they never stopped loving me. Even during the rough days that came along, their unending support never stopped.
I believe this is the reason I am so passionate about sharing and encouraging. I won't give up on the chance of recovery for someone. I will listen, pray, encourage and sometimes challenge someone if that is what they need. I was the only one who had ever given up on myself, and I will never walk away or give up on recovery.
Each day I have the chance to speak words of encouragement to so many who are going through the same things that I had once gone. I am able to connect and relate with hurting people because I was that hurting person. I am able to look families in the eye and share with them that recovery is real, and I am living proof.
I can hold a woman's hand and tell her that there is life without ED and that she is not alone in this fight. While I am at eating disorder awareness events and have the chance to connect with fellow alumni, there are always tears of joy, pride, and love. By allowing myself to be open and available to those who are struggling, I have a unique, instant bond and understanding. I know the feeling of pain and heartache.
My struggle was not wasted. Instead, it has been turned into opportunities to share hope. I believe that because I am authentic and real, I can relate to other women who are struggling or seeking direction. Both personally and professionally, I have been able to utilize social media as an extra member of the "aftercare team".
With today's technology, I have been able to connect with others from all across the globe. As a voice in recovery, I strive to have a positive and safe place for those in need to connect and find encouragement. I have been able to help create a strong connection and community. There is a need for encouragement and hope in the world of social media today.
My life has forever changed. I no longer believe ED's lies. Instead, it is my personal mission and passion to silence ED. It will be the passion that is deeply burned on my heart until the day that there is no longer anyone suffering from an eating disorder. Until that day comes, I am covered in God's armor and fighting the battle against ED.
---
For over 25 years, The Meadows Ranch has offered an unparalleled depth of care through its unique, comprehensive, and individualized program for treating eating disorders and co-occurring conditions affecting adolescent girls and women. Set on scenic ranch property in the healing landscape of Wickenburg, Arizona, The Meadows Ranch allows for seamless transitions between its structured multi-phase treatment. A world-class clinical team of industry experts leads the treatment approach designed to uncover and understand the "whys" of the eating disorder through a host of proven modalities. Providing individuals with tools to re-engage in a healthy relationship with food – and with themselves – disempowers eating disorders and empowers individuals with a renewed enthusiasm for life. Contact us today at 888-496-5498 and find out why The Meadows Ranch is the best choice for eating disorder treatment and recovery. For more information call 1-888-496-5498.. or visit www.themeadowsranch.com.
---
The opinions and views of our guest contributors are shared to provide a broad perspective of eating disorders. These are not necessarily the views of Eating Disorder Hope, but an effort to offer a discussion of various issues by different concerned individuals.
We at Eating Disorder Hope understand that eating disorders result from a combination of environmental and genetic factors. If you or a loved one are suffering from an eating disorder, please know that there is hope for you, and seek immediate professional help.
Last Reviewed By: Jacquelyn Ekern, MS, LPC on July 2, 2018.
Published on EatingDisorderHope.com