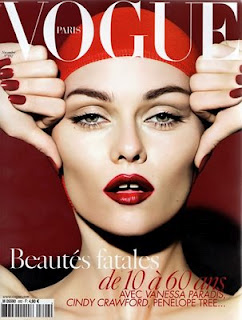 In a revolutionary move from the field of fashion and media, the editors of Vogue Magazine have issued a new pledge to no longer use models who are suspected to have eating disorders or who are under the age of sixteen.  Part of a six-point pact called "The Health Initiative", this statement was published in the June issue of all 19 international editions of Vogue.  This powerful initiative is directed at supporting and advocating for a healthier body image within the fashion industry, which has been critiqued for endorsing dangerously low body weights.
Editor Alexandra Shulman stated in her announcement about this health imitative, "As one of the fashion industry's most powerful voices, Vogue has a unique opportunity to engage with relevant issues where we feel we can make a difference."  The magazine also announced their intention to encourage designers to reconsider sample sizes, improve backstage working conditions, and establish a mentoring program for younger models.
In an industry that is too often associated for creating an unrealistic standard of beauty and body image, this is a groundbreaking undertaking that could potentially create a new movement in the world of fashion.  This move by Vogue falls on the heels of a similar law passed earlier this year in Israel which bans underweight models from local advertising.  This new law requires models to have recent medical report that states they are not malnourished.  Changes such as these may be at the forefront of an alteration in perception across the fashion industry worldwide, which is an influential source on body image.  It is all too common that women or men strive towards the unattainable and unhealthy standards that are reflected in images seen throughout the media today.  Vogue's commitment to redefining true beauty is a small but significant step towards changing the way that many individuals may view and embrace their own body.
What are your thoughts about Vogue's Pledge to stop using underweight models?
Published on EatingDisorderHope.com, Online Eating Disorders Information