Contributor: Nikki DuBose, contributor for Eating Disorder Hope
Today, more than ever, it's easy to get caught up in the distractions that social media provides. With just the touch of a finger you can reach anyone in the world, scroll up-to-the minute news and search recipes for dinner while listening to songs from your favorite artists.
While accessibility is alluring, however, it has its disadvantages. As people attempt to connect with the world, they are becoming more disconnected from themselves and each other, and living in a false reality that is laden with heavy, unnecessary pressures.
Relationships
According to Cornell University's Steven Strogatz, engaging in social media makes it hard to discern between our real relationships and those formed through the various outlets through social media. [1] A false reality is created as a result of frequently interacting with "friends," many of whom are obtained instantaneously.
Social media also leads to unnecessary pressures and unhealthy comparisons. For example, the more friends and followers we have, the more valuable we feel. This is where social media can place an unnecessary pressure on individuals and cause psychological damage.
For example, when I left the modeling industry three years ago Instagram and other outlets were around but they were not on the level that they are now in terms of popularity. Nowadays it's not only models who feel pressure to make themselves more visible on the app and other outlets. People of all ages, including children as young as ten years old are setting up online profiles and exploring apps. [2]
Negative Effects
What effect does this have on ten year olds, on young people who are not emotionally ready to handle the content and/or people they are exposed to? It's easy for anyone to compare themselves online to their "friends," "followers," celebrities and strangers, thus creating a dangerous cycle of unhealthy comparisons and unnecessary pressures.
Social media does not cause psychological conditions, but given that certain genetic, environmental and/or other factors are present, social media can trigger destructive thoughts and behaviors. According to a recent study by Ottawa Public Health, teens who use social media more than two hours a day are likely to suffer from poor mental health, psychological distress and suicidal thoughts. [3]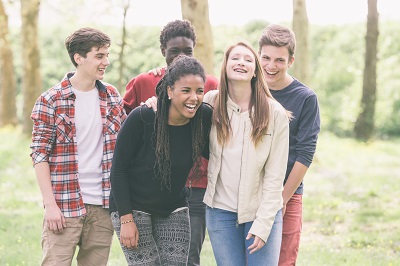 Given that, it's no wonder that more and more young people are lonely, developing depression and even attempting or committing suicide. [4] Especially with eating disorders, the constant comparison is particularly dangerous, as users can instantly search for keywords relating to images that glorify an unhealthy body image and worse, death.
Thankfully, social media can be as a powerful, positive force. With numerous apps, websites and channels dedicated to providing quality content, parents and individuals have the choice to specifically browse only what's healthy.
Just as with anything in life, social media can be used for the good or the bad. It's all about keeping our thoughts in balance first, and for parents, having an open dialogue with children is important as well as regulating what they are looking at.
Community Discussion – Share your thoughts here!
Have you limited your access to social media in an effort to support your recovery? What positive impact has that had on your recovery?
---
References
[1]: http://smallbusiness.chron.com/negative-effect-social-media-society-individuals-27617.html
[2]: http://www.dailymail.co.uk/news/article-2552658/More-half-children-use-social-media-age-10-Facebook-popular-site-youngsters-join.html
[3]: http://online.liebertpub.com/doi/full/10.1089/cyber.2015.0055
[4]: http://www.worldmag.com/2015/04/the_link_between_social_media_and_suicide_in_young_women
---
About the Author: Nikki DuBose is a former model, host, and actress who has recently turned her career focus towards writing, public speaking, and mental health advocacy. She is a passionate dynamic voice in the mental health field and seeks to encourage others to develop a strong sense of their intrinsic value and self-worth. Nikki grew up in charming Charleston, South Carolina and lives in Los Angeles. After traveling the globe and working as a fashion model and commercial actress in exciting destinations such as the Middle East, Paris, Barcelona, and London, she was inspired to leave the industry to pursue writing full time. Her writing is focused on encouraging others to overcome the deadly grip of mental health issues that affect millions. She draws firsthand experience from a long-standing battle with eating disorders, physical, emotional, and sexual abuse, drug and alcohol addictions, and a wide range of mental health issues. Her first book is currently in the works and recounts her life struggles and ultimate triumph over the mental disorders and addictions that plagued her for most of her life. She has been published multiple times within The National Eating Disorders Association for her hope, strength, and community outreach initiatives. She continues to advocate for NEDA, writes for the association and other incredible establishments such as Eating Disorder Hope and Recovery Warriors. She has been able to connect with people around the world through her website and speaks and assists with other organizations covering various mental health issues, body image and self-esteem. In addition to her writing and advocacy, Nikki is pursuing her degree in Psychology.
---
The opinions and views of our guest contributors are shared to provide a broad perspective of eating disorders. These are not necessarily the views of Eating Disorder Hope, but an effort to offer discussion of various issues by different concerned individuals.
We at Eating Disorder Hope understand that eating disorders result from a combination of environmental and genetic factors. If you or a loved one are suffering from an eating disorder, please know that there is hope for you, and seek immediate professional help.
Last Updated & Reviewed By: Jacquelyn Ekern, MS, LPC on November 17, 2015
Published on EatingDisorderHope.com