Jenni Schaefer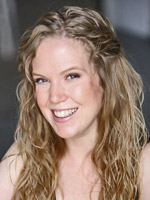 Jenni Schaefer works internationally as a speaker and writer to educate about eating disorders and to provide hope that recovery is possible. After struggling for more than twenty years with food and body image issues, Jenni is fully recovered from anorexia and bulimia.
Her life is now devoted to helping all individuals touched by the illness. Her groundbreaking book, Life Without Ed: How One Woman Declared Independence from Her Eating Disorder and How You Can Too (McGraw-Hill), introduces a therapeutic technique that has changed the way people view eating disorders:In the introduction of Life Without Ed, Jenni writes:"I have never been married, but I am happily divorced. Ed and I lived together for more than twenty years. He was abusive, controlling and never hesitated to tell me what he thought, how I was doing it wrong, and what I should be doing instead… Ed is not a high school sweetheart. Ed is not some creep that I started dating in college… Ed's name comes from the initials E.D.-as in eating disorder. Ed is my eating disorder.
"Based on the approach of psychotherapist, Thom Rutledge, Jenni treated her eating disorder as a relationship rather than an illness. She learned to think of her eating disorder as a distinct being with unique thoughts and a personality separate from her own. This therapeutic technique is now widely used across the globe.Jenni is invited to speak internationally at conferences, schools, and other events.
A singer/songwriter living in Nashville, TN, she uses music in her outreach efforts. She also incorporates humor into her work as a speaker and writer. Even though the topic of eating disorders is very serious, she finds that humor provides a hopeful light and adds a fresh perspective. Her ability to integrate spirituality into the treatment of eating disorders also makes Jenni's work refreshing, innovative, and lifesaving.
A Senior Fellow of the The Meadows Ranch, Jenni is a contributing author to Chicken Soup for the Recovering Soul and its companion Chicken Soup for the Recovering Soul: Daily Inspirations (HCI Books). She is a regular guest on national radio and television, including Dr. Phil and Entertainment Tonight. Her work has been recognized in the Chicago Tribune, Cosmopolitan, Shape, The Washington Post, Woman's World, and more. She writes regularly for national publications. Jenni has inspired countless women and men to respect their bodies, believe in themselves, and join in the battle against eating disorders. Dove's® Self-Esteem Global Ambassador, Jess Weiner, honored Jenni as a Featured Actionist for her dedication to promoting eating disorder awareness. Jenni serves on the Board of the Eating Disorders Coalition of Tennessee and is a member of the International Association of Eating Disorders Professionals and Academy for Eating Disorders. She was recently named to the Ambassador Council of the National Eating Disorders Association.
Jenni's mission is to raise the divorce rate in this country (from Ed, of course).
For more information: www.lifewithouted.com.