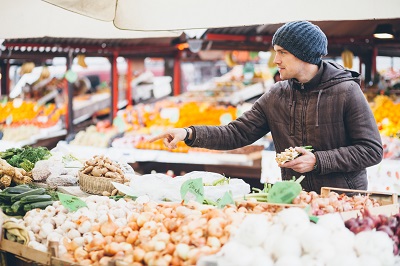 As our society continues to evolve, our behavior and aspirations change along as well. There is a relatively new concept that has been getting a lot of attention in the last couple of years, and that is orthorexia. Orthorexia and Health are often used to describe a kind of eating disorder associated with healthy eating, which is not part of the Diagnostic and Statistical Manual the fifth edition (DSM-5).
Here, we will talk about what orthorexia is, what it is not, and dispel some myths and rumors that have been circling around the community. Hopefully, this gives people hope and some tools to use for their struggle.
Jessica Setnick, MS, RD, CEDRD our guest speaker, has one of the most recognizable names in the eating disorder field. Retired from her own practice, Jessica trains health professionals through her signature workshops, Eating Disorders Boot Camp, and in private trainings at hospitals and other facilities.
PART I: All about orthorexia
Kirsten: What exactly is orthorexia?
Jessica: Orthorexia is not an official eating disorder, but it's the terminology used to describe someone who has dysfunctional eating behaviors with the goal of being healthy, pure or clean to the point where they're no longer eating healthy because it's gone to an extreme.
Kirsten: Has this term been around for a long time or is this something new?
Jessica: It was coined back in 1997 by Steven Bratman, through an article, and then later on through a book. It became a media buzzword when Jordan Younger, known as 'the blonde vegan,' recognized that her way of eating was not, in fact, healthy despite good health being her ultimate goal.
She then identified herself as having orthorexia. When she did, she received a lot of hate mail from followers who felt like she was judging them. This messy situation got media attention, and that brought the word orthorexia into public consciousness.
Kirsten: What is the difference between orthorexia and anorexia?
Jessica:
There is an existing movement right now to try and get orthorexia recognized as its own unique eating disorder. If that happens, we will be able to do better research on it and then get better treatment for it. But it has to be officially recognized as an eating disorder before all that can happen.
There is still an ongoing debate as to whether or not orthorexia is its own specific eating disorder. The main difference is that, in order to meet criteria for anorexia, someone has to endorse a drive either for weight loss or a fear of weight gain. With orthorexia, an individual might not say anything about wanting to lose weight but more about modifying their eating in order to feel healthy, clean or pure.
Someone once made an interesting point before. She said, "I told myself I didn't have an eating disorder because I didn't fit into one of the categories. But you don't have to check off all the boxes to be struggling."
Kirsten: What are some of the "boxes" that pertain to orthorexia? Could you dispel the myth that it is necessary to meet every single one of the criteria in order to be worthy of treatment?
Jessica: My mission in life is to no longer focus on any diagnostic criteria but educate people that we all have eating behaviors. Everyone who eats has an eating behavior, and most of us have some kind of dysfunctional eating behavior that may or may not meet any diagnostic criteria.
The question is really, "are your eating behaviors positively or negatively impacting your life?" So checking those "boxes" becomes much less important and what is more significant is how your eating behaviors are affecting your daily life.
Orthorexia tendencies would mean paying more attention to the quality, purity, and perceived healthiness of your food and getting detached from your internal hunger cues. For example, if someone opts not to buy their baby diapers because they would rather buy specific kinds of food at a specialty store, then that would suggest that their priorities are out of sync. That sometimes happens with orthorexia.
Another example of an orthorexia tendency would be linking your self-esteem to the type of food you eat, meaning you only feel self-worth and value when you eat or don't eat certain things.
PART II: Food, self-worth, orthorexia and health
Kirsten: There are a lot of ethical questions surrounding food– is it ethically sourced, how are the animals treated, were sustainable methods used and is it good not only for the environment but also the people who harvest this food. How does that affect someone with an eating disorder? How do you balance the desire to eat well but not to obsess?
Jessica:
There is nothing about orthorexia that says you can't eat in a way that meshes with your integrity. It is important to Stephen Bratman that any definition of orthorexia doesn't legitimize or delegitimize any type of eating and as a dietitian, I feel the same way. The bottom line is, "can someone stay nourished?" If you can stay nourished by eating only food that has been locally sourced, then that's wonderful.
If you can't, then occasionally you may have to have food that's been imported. To me, staying nourished is the bottom line. If you can stay nourished and content by not eating any animal products or by only eating products that meet your ethical standards, then fantastic. I do not object to that, and I would not call it orthorexia.
Orthorexic behaviors start when someone is unable to stay "flexible enough" when they make a mistake. An example would be a person who adheres to a vegan eating style accidentally eating a cake only to find out later on that there was an egg in it.
Can she or he stay flexible enough that it does not negatively affect their self-esteem? Or will there be a need to repent for making a mistake, abstain from eating to "make up" for it, or throw it up? It is more of a whole health issue rather than sacrificing overall health in the service of "perfect" eating.
You talked about self-concept, and I think it is important to address underlying issues. We can talk about food and weight control behaviors or other kinds of behaviors all day long, but at the end of the day, we know that those are usually just leaves on the tree where the roots go deep.
Kirsten: As a dietitian, what are some of the underlying issues at play when it comes to orthorexic behaviors?
Jessica:
I think that it has been understood that in some or most cases, the way we eat and the way we look at eating is a metaphor for how we approach life and different responsibilities. And so being a perfectionist can be one of those things. Someone who is trying to be perfect in their eating, even though we know that is not possible to do, could signify that someone is not feeling good enough in general. They try to solve a problem with food, a problem that cannot, in fact, be solved through food.
If someone feels bad, disappointed or guilty, it would be a lot easier to attribute that to food and say, "well I feel bad because I ate a piece of pizza, so I am not going to eat pizza anymore."  In fact, if the negative feeling comes from something other than pizza, then it is not enough to stop eating pizza. That person is going to feel bad again the next day and the day after that.
They are still going to feel bad because life sometimes involves feeling bad, disappointed, imperfect, inadequate and rejected. If we use food to try to eliminate those feelings or if we eliminate food hoping it will eliminate those feelings, then we are never going to feel "good." I believe that probably how someone feels after they eat is how they were feeling before eating.
Another underlying issue might be loneliness. Sometimes following a special diet on the Internet and joining support groups and Facebook groups can help someone feel connected. Another issue is feeling powerless or feeling as if you are not achieving your goals.
Setting and achieving goals for food can make you feel accomplished. That despite not achieving your goals in the workplace, with your bank balance or in your relationships, you can get that feeling of satisfaction and accomplishment through food.
Every time someone uses their food to solve a non-food issue, it points to having a void in their lives. Some people are looking for connection through food while others are looking for independence through food. It is really important for each of us to look within and discover what role we are trying to fill.
The most important thing is support. Having someone that you can talk to is really important. I believe that that person should be an eating disorder specialist rather than just a general dietitian, counselor or a doctor because unfortunately, someone who is not experienced with eating disorders can actually do more harm than good.
PART III: Getting the word out
Kirsten: What do you say to people who are already critical of increased attention on eating disorders, like lawmakers, the media and top global health organizations?
Jessica:
I'm very much aware of that. Just to put numbers on it, thirty million Americans have diabetes, and we talk about diabetes all the time. Well, guess what, for every person with diabetes there's also a person with an eating disorder: thirty million people in this country with diabetes, thirty million people in this country with an eating disorder.
So why are we hearing about diabetes all day long and not hearing about eating disorders? It has a lot to do with what we know how to treat and how we can make money. There is lots of money to be made in diabetes medication, but there's not a lot of money to be made in eating disorder medication because there aren't a lot of medications that help people with eating disorders.
As a culture, we are so ignorant of mental health and mental illness. We have done a terrible job in our society when it comes to educating people about eating disorders – (1)
we don't know much about them or what causes them and (2) we have wrongly colluded in keeping eating issues a secret and considering them a personal choice and a personal failing. I do hope we can make that change.
What I would say to anyone who thinks there is too much focus on eating disorders is that just because you don't hear about people with eating disorders all the time or just because you don't feel like eating disorders are a problem, that does not mean they are not a problem. We need to help people realize that the same things that cause weight issues cause eating disorders. Most underlying issues are similar, and yet we look at one outcome and consider it a huge problem and disregard the second outcome altogether.
Kirsten: What advice would give to educators or others involved in teaching kids how to how to eat?
Jessica: There is a sizable group of eating disorder dietitians working on a grassroots level to overhaul the way we teach nutrition to kids in this country. Their main point is that kids are so literal and they have different developmental and nutritional needs. So, we have to stop teaching them information that might be more appropriate for adults and teach to their particular needs.
We are giving them information that they can't actually use. We have a study that shows that many eating disorders are caused by scaring kids about food.
My message is to encourage kids to follow their own intuition when it comes to eating, to eat appropriately spaced apart meals and to try to have a good relationship with food. Food insecurity is a huge problem. When we have many, many kids that are growing up with an inappropriate or inadequate amount of food, or excessively strict rules about what they are allowed to eat, it makes sense that they are likely to develop dysfunctional eating behaviors and eat more when food is around. Yet we target all of our nutrition education as if everyone has the same issues. It would be better to teach kids flexibility, adventurousness with goods, pursuing a complete view of nutrition instead of this focus on how many crackers there are in a serving and other tangential information It's something you can't give kids a grade on – you are trying to lay the foundation for lifelong eating behaviors.
I think that if there's the one thing that people can take away from this, it is to avoid blaming food for how you feel. Use food as a clue to help you identify the feelings that are intangible, those feelings that you walk around with all the time and then get some care for those feelings.
The more we can be real and the more we can be open about our own eating struggles, the more we can just take the stigma and shame away and ultimately help other people. At the end of the day, we often cannot get over these things by ourselves.
---
Source:
EDH Weekly Hope interview with Jessica Setnick, MS, RD, CEDRD-S on the EDH Facebook. "Discovering You in Your Desire" held June 13, 2018
---
Interviewee

Jessica Setnick, MS, RD, CEDRD-S envisions a world where all health professionals know how to help someone with an eating disorder. She created The Eating Disorder Clinical Pocket Guide and Eating Disorders Boot Camp to advance this vision, which she also does in her training workshops, phone coaching, and onsite training at hospitals and treatment programs.
---
Interviewer

Kirsten Haglund is the Director of Global Business Development and Digital Media for Eating Disorder Hope and an international speaker, mental health advocate, and digital media strategist. Through her media and communications company, En Pointe, she works with a diverse group of clients in both the profit and non-profit sectors increasing social engagement and scalability, social listening, communications training, spokesperson work increasing brand awareness. Kirsten serves as a media spokesperson, speaker, and Director of Global Business Development and Digital Media for Eating Disorder Hope & Addiction Hope. She is also Community Relations Specialist for Timberline Knolls Residential Treatment Centre and is Founder and President of the Kirsten Haglund Foundation. She served as Miss America 2008 and Goodwill Ambassador for Children's Miracle Network Hospitals. Kirsten graduated from Emory University with a B.A. in Political Science and is currently based in Zürich, Switzerland.
---
The opinions and views of our guest contributors are shared to provide a broad perspective of eating disorders. These are not necessarily the views of Eating Disorder Hope, but an effort to offer a discussion of various issues by different concerned individuals.
We at Eating Disorder Hope understand that eating disorders result from a combination of environmental and genetic factors. If you or a loved one are suffering from an eating disorder, please know that there is hope for you, and seek immediate professional help.
Published on September 14, 2018.
Reviewed & Approved on September 14, 2018, by Jacquelyn Ekern MS, LPC

Published on EatingDisorderHope.com