Male eating disorders are on the rise in Westernized societies, and recently there have been disturbances in men in Singapore.  With an increasing amount of media and body image concerns on the rise in Singapore, males are becoming more at-risk for a distorted body image and an eating disorder.
A study looked at four male Singapore clients, and all expressed 'fat' phobia, fear of weight gain, and poor body image dissatisfaction and 15.3% of the males who have documents risk for eating disorders in Singapore are homosexual or bisexual [1].  Two risk factors that came out of this study for men developing an eating disorder is obesity and fear of gaining weight, as well as sexual orientation.
Further Research
In another study from 2014, 72 males from Singapore were identified as having an eating disorder. Again, the precipitating factor for the eating disorder included being overweight, and individuals or peers are making comments about their body.
Of the participants over 68% recognized that they had body image issues, with significant concern about their stomach and torso appearance [2]. Also discovered in this study were other psychiatric conditions among the patients.
In Singapore, there is not a differentiation between gender-sensitive and gender-specific, but are gender-segregated. In hospitals and even psychiatric facilities, the men and women are separated.
This may be a reason for an increase in disordered eating and poor body image. There is a growing dissatisfaction of youth with their body image, some as young as nine [3].
Eating Disorders on the Rise
At the Singapore General Hospital Eating Disorders Program, more eating disorder patients have been admitted. In 2016 there were 170 new patients admitted for an eating disorder.
Compared to years prior, this was starting to increase to the initial 40 patients admitted in 2003. Not just adults and teens are being affected either. At the Children's Hospital in Singapore, there were 65 new patients admitted for eating disorder treatment.
Factors that Encourage Negative Body Image
Many treatment professionals say that social media has fueled the desire to be thin among youth, both male and female. There seems to be an increasing amount of body-shaming, body comparing online and can increase poor body image.
The newest trend is called A4, where the challenge is for a females teens waist in China be smaller than the width of an A4 sheet of paper, and the craze of the 'thigh gap' has reached Asia [3].  Men are at an increased risk for poor body dissatisfaction, and low self-worth. Studies have shown that at least 20% of those who seek help for an eating disorder in Singapore are men.
Typically men desire lean and muscular arms, shoulders, thighs, and abdomens, according to Evelyn Book, Ph.D. at the Singapore General Hospital [4].
Researchers and clinical professionals feel that male negative body image is stemming from an increase in Westernized ideals, social media, and movies as well as the common myth that eating disorders are a 'female' issues only.
Body Image Meaning
Body image is how you feel about yourself. It is how you perceive your body and how you perceive how others see you. Body image can be positive or negative.
It can be influenced internally or externally through images, thoughts, social media, movies, television, and what others say about your body, weight, shape, and size.
How to Build Better Body Image
First, it is essential to recognize that bodies come in all shapes and sizes and that there are no one-size fits all [5]. Secondly, it is essential to focus on the qualities that you like about yourself that are not related to appearance.
Focus on developing these qualities to define your identity and worth. Third, it is also about turning a 'blind eye' to media, advertising, and movies. It is easy to get sucked into what society says about how men 'should' look.
Reality is about knowing your body and being proud and acceptant of how you look and carry yourself.
Fourth, find friends and loved ones who support you and who like and love you for your qualities, not your body. Finding a positive support circle is vital in keeping your body image positive.
Sixth, show assertiveness around others who start body shaming or comparing conversations. Change the topic or state that they are not appreciated comments. Respond to negative comments with personal self-affirmations and self-talk.
Lastly, focus on how your body serves you daily. How it helps you participate in life. Be able to appreciate how your body functions over its appearance.
In conclusion, males with eating disorders are on the rise in Singapore. Issues such as myths around eating disorders, stereotypes, media, and Westernized ideals increase the risk factor of eating disorders within this population.
---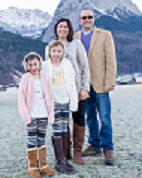 About the Author: Libby Lyons is a Licensed Clinical Social Worker and Certified Eating Disorder Specialist (CEDS). Libby has been practicing in the field of eating disorders, addictions, depression, anxiety and other comorbid issues in various agencies. Libby has previously worked as a contractor for the United States Air Force Domestic Violence Program, Saint Louis University Student Health and Counseling, Saint Louis Behavioral Medicine Institute Eating Disorders Program, and has been in Private Practice.
Libby currently works as a counselor at Fontbonne University and is a Adjunct Professor at Saint Louis University, and is a contributing author for Addiction Hope and Eating Disorder Hope. Libby lives in the St. Louis area with her husband and two daughters. She enjoys spending time with her family, running, and watching movies.
---
References:
[1] Boon, E., Zainal, K. A., & Touyz, S. W. (2017, October 20). Perceptions of eating disorder diagnoses and body image issues in four male cases in Singapore. Retrieved November 18, 2017, from https://jeatdisord.biomedcentral.com/articles/10.1186/s40337-017-0159-x
[2] J. (2015, September 07). Culture and Eating Disorders: A Singaporean Perspective — Part 2. Retrieved November 18, 2017, from http://www.scienceofeds.org/2015/08/12/culture-and-eating-disorders-a-singaporean-perspective-part-2/
---
The opinions and views of our guest contributors are shared to provide a broad perspective of eating disorders. These are not necessarily the views of Eating Disorder Hope, but an effort to offer discussion of various issues by different concerned individuals.
We at Eating Disorder Hope understand that eating disorders result from a combination of environmental and genetic factors. If you or a loved one are suffering from an eating disorder, please know that there is hope for you, and seek immediate professional help.
Published on January 5, 2018.
Published on EatingDisorderHope.com