Healthy coping tools are often learned behaviors. If you have used harmful coping mechanisms in the past, there is still time to develop and implement healthy tools that will support your recovery.
Often, family dynamics and communication styles can play a significant role in an individual's recovery process. This is especially true of minors and others who live at home or with family members.
By integrating healthy coping tools within the family, these individuals can establish boundaries and improve the quality of their relationships.
Healthy Coping Tools – It Starts with Communication
Encouraging healthy communication within families can set the tone for the implementation of healthy coping tools when individuals are going through hard times. This includes a higher likelihood of reaching out for support.
Instead of sweeping things under the rug and hoping they go away, encourage your loved ones to feel their feelings and share what they are going through. It might be uncomfortable to sit with these emotions in the moment, but the alternative will be much more painful for all parties involved.
Healthy communication does not only apply to negative circumstances. Instead, promote communication every day. If a family member did well on an exam, won the championship basketball game, or even befriended a new co-worker at the office, the entire family can join in celebrating these positive moments. If nothing out of the ordinary happened, even discussing the mundane can improve communication skills.
This does not mean you have to share everything with your loved ones, it is still important to establish and maintain healthy personal boundaries.
Boundaries Within the Family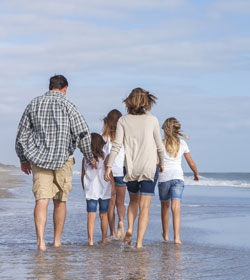 Establishing boundaries can be a difficult process for anyone in eating disorder recovery.
Identifying your own boundaries and being able to set them with both loved ones is an important part of living free from your eating disorder.
This might be challenging for the entire family, but it is vital to remember that establishing boundaries is a form of self-care. Boundaries will also improve your family dynamics over time.
If you feel uncomfortable establishing boundaries, encourage your family members to do the same. By doing so, you are recognizing the needs of your loved ones and the mutual respect that comes with setting and honoring personal boundaries.
How does this relate to coping mechanisms? Both open communication and establishing healthy boundaries within families can lay the foundation for the use of healthy coping tools if individuals are triggered.
This is especially beneficial for individuals in recovery, as their past eating disorders might have gotten in the way of practicing these important life skills.
Using Healthy Coping Tools During Family Time
All families use their time together in different ways. It is possible to engage in positive coping tools during your family time to encourage both children and parents to process their feelings in ways that support their mental health.
Pretty much everyone is faced with some level of stress on a regular basis. It is how individuals cope with this stress that determines whether it will impact their recovery.
If you have a family member in recovery, you can begin spending your time together engaging in a variety of coping tools that will benefit the entire family unit. For example, take your loved ones for a mindful walk on Saturday morning instead of everyone going off and doing their own separate things.
Supporting positive activities that involve communicating and being active can bond your family while allowing members to develop healthy outlets for stress, anger, sadness, or whatever unwanted emotions they might be facing throughout the day.
As children get older, it can be more challenging to get everyone together for family activities. This is partly due to conflicting schedules, changing interests, and many other obstacles that inevitably arise.
Regardless of whether it is realistic for you to engage in family activities on a regular basis, practicing healthy coping tools on your own is key to recovery.
Be Patient with Yourself
Learning which coping tools work for you and how to integrate them into your family is not an overnight process. Be patient and let yourself make mistakes.
Keep in mind that what you are doing is setting the tone for healthy dialogue and coping mechanisms within your family. Embracing this change and learning along the way can be empowering for the entire family, particularly loved ones in eating disorder recovery.
---
About the Author:
Courtney Howard graduated summa cum laude with a B.A. from San Diego State University, holds a paralegal certificate in Family Law, and is a Certified Domestic Violence Advocate. After obtaining her certification as a life coach, Courtney launched Lionheart Eating Disorder Recovery Coaching in 2015 and continues to be a passionate advocate for awareness and recovery.
---
The opinions and views of our guest contributors are shared to provide a broad perspective of eating disorders. These are not necessarily the views of Eating Disorder Hope, but an effort to offer discussion of various issues by different concerned individuals.
We at Eating Disorder Hope understand that eating disorders result from a combination of environmental and genetic factors. If you or a loved one are suffering from an eating disorder, please know that there is hope for you, and seek immediate professional help.
Last Updated & Reviewed By: Jacquelyn Ekern, MS, LPC on December 1, 2016
Published on EatingDisorderHope.com