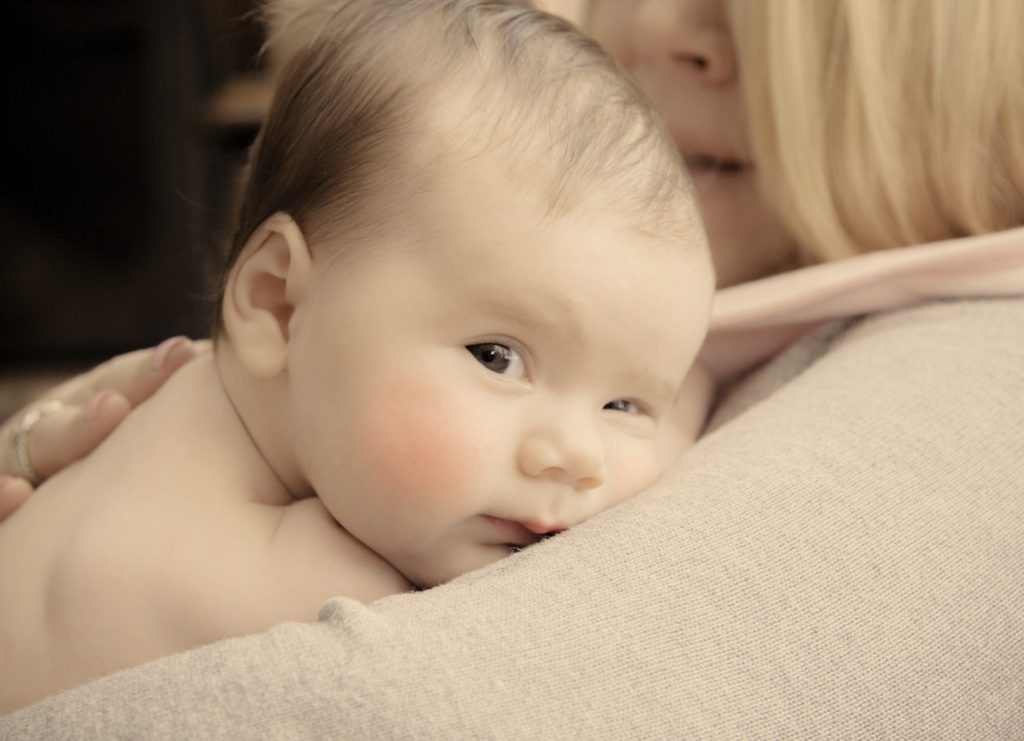 With the number of drastic physical, mental, and emotional changes that occur during pregnancy, it's no surprise that this period of life is a common time in which eating disorders tend to peak in women. As eating disorders frequently occur during women's childbearing years, diseases such as anorexia or bulimia can have a tremendous effect on the health of both mother and baby during pregnancy.
Research has demonstrated that pregnant women with past or active eating disorders seem to be at greater risk for delivering infants with adverse outcomes, such as significantly lower birth weight, as well as increased risk for relapse in eating disorders during pregnancy [1].
Postpartum Depression in Women
However, the challenges women may face do not end at the conclusion of the pregnancy.  The most common risk following childbirth is an increased incidence of postpartum depression, which may occur in up to 30 percent of women with a history of an eating disorder [2].
While much attention may be given to a woman during her pregnancy, especially if high-risk factors such as an eating disorder are identified, little may be done to address the serious risk of postpartum depression in women with eating disorders.
While little has been known about the causes of pregnancy-related depression, more research has drawn attention to this significant matter in recent years.  In a study published in the June 2011 issue of Journal of Women's Health, researchers at the University of North Carolina at Chapel Hill School of Medicine investigated the possible factors that would increase a woman's risk for developing postpartum depression.
In this study, researchers assessed 158 pregnant and postpartum women who were undergoing treatment for depression at UNC's Perinatal Psychiatry Clinic.
Survey results revealed that one-third of the patients had a history of eating disorders with several patients reporting a history of physical or sexual abuse [3].
Based on these findings, researchers were able to conclude that these psychiatric factors may increase a woman's likelihood of developing depression during pregnancy or postpartum [3].
These findings are significant in that they help health practitioners identify patients who may be at greater risk, connecting them with support and treatment options early in their pregnancy as a means of prevention.  With the prevalence of eating disorders among women of childbearing age, much can be done preventatively to help during these vulnerable time periods.
Help and Support is Crucial
Dr. Samantha Meltzer-Brody, lead author or this study and director of UNC's Perinatal Psychiatry Program, noted that undiagnosed and treated postpartum depression "causes enormous distress to the family, and it can have long-lasting consequences for the child.  Making sure mothers struggling with mental health issues receive adequate assessment and treatment is critical to breaking that cycle."
Seeking appropriate help and support could not be more crucial than during the pregnancy and postpartum period, as the health and well-being of the mother and child depends on it.
If you or a loved one is struggling with an eating disorder and considering pregnancy, take the most important step by reaching out for help.
Perhaps you are pregnant or have recently delivered?  Make sure you discuss any concerns about your eating disorder with your health care professionals.  Eating disorders are secretive by nature, and it can be difficult, even painful at times to ask for the help you need.
Though the pregnancy and postpartum period can be incredibly fragile, they signify times for the greatest opportunity for help, change, and support.  Consider the impact your decisions can have on the outcomes you or your child may face.  You alone possess the power to create a positive change and impact for the future of yourself and your child.
---
References:
[1]:  Koubaa S, et al.  Pregnancy and neonatal outcomes in women with eating disorders.  
Obstet Gynecol.
 2005 Feb; 105(2): 255-60. [2]:  "Pregnancy and Eating Disorders". http://www.bulimia.com/client/client_pages/newsletteredt20.cfm Accessed 15 July 2013. [3]: "Pregnancy-related depression linked to eating disorders and abuse histories".   
http://www.med.unc.edu/www/newsarchive/2011/june/pregnancy-related-depression-linked-to-eating-disorders-and-abuse-histories
  Accessed 15 July 2013.