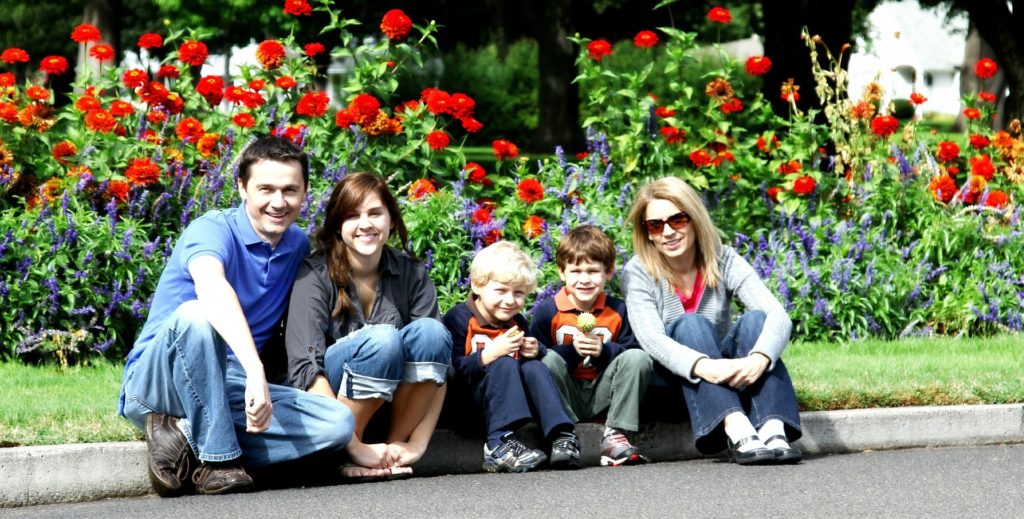 Contributed By: Sarah Lavanier, PsyD, CEDS, Clinical Director of Eating Disorder Services of Lindner Center of HOPE
Being a parent can be one of the most rewarding jobs there is, and it also comes with a tremendous amount of responsibility for body and food negativity. The idea of being a parent can be exciting, yet often overwhelming and hard to fully grasp.
From the moment a child is formed, parents become one of their greatest influencers. A child hears their voice, learns their ways, and fixates on them as the ultimate model.
When mom or dad is happy and calm, the child learns that they are safe. When a mom or dad is upset, they learn to be fearful and unsure of the world around them. This influence continues into childhood, teen years, and often for many years to come.
For some, this may seem like an incredible blessing. They see their parents as the glue of the family, the ones who know the answers, the ones who are calm in the hard times, the ones who understand their problems, and the list can go on and on with feelings of pride and confidence.
Though for many others, their parents are just well… human, full of flaws, mistakes, quirks, and made up of many different events and circumstances that have made them exactly who they are. Most people find the second explanation more relatable, with maybe some of the first sprinkled in.
Parents' Influence on Body and Food Negativity
The influence of a parent is widespread in many areas of a child's life and surely does not discriminate when it comes to influencing a child's relationship with body and food negativity. In a study by Cash and colleagues, close friends and family's social support was reported as the primary influence on a positive outlook about appearance [1].
All families have patterns and values around food or body, whether there is an active awareness around this or not. Some questions to help identify some of these patterns in your own home may be:
How do we talk about food? Are there any "good" or "bad" foods?
Is there a structure to our eating habits? Timing/place? Do we eat together?
Is eating ever done in private? Secretive eating?
Are there any rules around eating? i.e., "clean plate club", "no dessert until your food is complete"
Are diets talked about often? What is the message about them?
Is food ever used as a reward or a punishment?
How do we talk about our bodies? Positive, negative? Is one type of body seen as better than another?
Is there any name-calling when it comes to appearance or size?
How do we talk about weight and body changes?
How important is appearance or image to our family?
How is movement or exercise talked about in our home?
These are just some ideas to get things started, but there could be many more to explore. No matter the experience, the family environment often influences how the child sees food and body throughout their lives.
Depending on the exposure, this could lead to a positive, healthy relationship with food/body or potentially developing disordered eating or body image concerns.
For example, children of mothers who are overly concerned about their weight are at an increased risk of developing negative and unhealthy attitudes and behaviors around food and body [2].
To be clear, parents DO NOT cause eating disorders. This can be a common misconception, and the truth is that multiple factors contribute to the development of an eating disorder, including social, psychological, and biological factors, with genetics making up the largest portion.
With genetics being something that one cannot control, parents and the family environment can be one of the most important keys to the solution [3]. So, rather than focusing on what caused the eating disorder, it is encouraged that parents focus on how to improve the environmental impact and support to make recovery easier and more reachable moving forward.
Incorporating the parents in creating a culture in their home that is healthy, supportive, and recovery-focused can aid in prevention and in the treatment process. This approach has been shown to be both effective and healing.
How Can Parents Improve Their Perceptions and Actions of Food Negativity?
With this in mind, during treatment, parents are often led down their own journey of self-reflection and are encouraged to work on their own food and body perceptions and patterns. This can feel very validating to their child that is facing the eating disorder, feeling like they are not in this alone and that their parent is willing to make some hard changes to make their environment an easier, more supportive place to recover.
This may feel like a daunting task, as any big change can be, but the benefit in the child's life and often the parent as well is so worth the extra work to stop the pattern now. Without making these shifts, the patterns will very likely continue for generations to come.
Here are some steps for parents to begin to help with embracing this change:
Be gentle with yourself. You came by this honestly. You have your own history that has led you to your own thoughts and beliefs about food and body. Notice the strengths and weaknesses from your own family of origin.
Become more aware. Notice and learn about your own eating and food biases. How do I talk about food? What is valued in our home about appearance and size? How would I like this to be different?
Allow self-compassion [4] and forgiveness of self and your own past. Do your own therapeutic work if necessary.
Create a new language and rules around body and food. Some examples may be "all food fits", "food nourishes the body and energizes the soul", "all bodies are good bodies", "all bodies have fat on them to survive, but the word fat is not to be used to put someone else down". Draw a strong line against any weight or size bullying.
Knowledge is power. Read reputable books or websites on body respect and acceptance, intuitive eating, and how to support your child with an eating disorder.
Talk about movement or exercise as a fun activity for your body to do when it is nourished well, NOT as a punishment.
Model positive habits by example. Don't just "talk the talk". They are always watching.
Emphasize growth and learning, rather than success and being right. Any change can take time, and mistakes will happen. Model humility and vulnerability as you learn.
Parents hold unparalleled power and responsibility over body and food negativity that cannot be ignored and should be truly embraced. Children are always watching and learning.
The parent voice from early on often becomes the child's inner voice. Help to create that voice to become one that is strong, self-compassionate, encouraging, and flexible. Choose to be the one that starts this new pattern, that's impact can be felt for generations to come.
---
References:
[1] Cash, T.F. (2008). The Body Image Workbook, 2nd edition: An Eight-Step Program for Learning to Like Your Looks. Oakland, CA: New Harbinger Publications., Inc. [2] Andreyeva, T., Puhl, R. M. and Brownell, K. D. (2008), Changes in Perceived Weight Discrimination Among Americans, 1995–1996 Through 2004–2006. Obesity, 16: 1129–1134. doi:10.1038/oby.2008.35 [3] Lock, J., LeGrange, D. (2005). Helping Your Teenager Beat An Eating Disorder. New York, NY: The Guilford Press. [4] Neff, K. (2011). Self-Compassion: Stop beating Yourself Up and Leave Insecurity Behind. New York, NY: HarperCollins Publishers.
---
Lindner Center of HOPE offers a disciplined approach to eating disorder treatment that combines psychiatric management, psychotherapy, nutritional services, and family engagement throughout the entire process. Board-certified clinicians offer the wisdom, compassion, and proven treatment modalities to successfully treat complex illnesses such as eating disorders, returning patients, and their loved ones, to more fulfilling lives.
The Harold C. Schott Foundation Eating Disorders Program at Lindner Center of HOPE includes services for adults and adolescents, females and males, while also incorporating research.
---
About the Author:
Sarah Lavanier, PSYD, CEDS, Clinical Director of Eating Disorder Services at Lindner Center of HOPE, Harold C. Schott Foundation Eating Disorders Program, Clinical Director of Eating Disorder Service University of Cincinnati, Adjunct Assistant Professor of Psychiatry and Behavioral Neuroscience Cincinnati Children's Hospital Medical Center, Consulting Psychologist, Behavioral Medicine and Clinical Psychology
Dr. Lavanier serves as a staff psychologist for Lindner Center of HOPE, with her primary focus on the treatment of eating disorders, anxiety disorders, and women's health.
Within the Harold C. Schott Foundation Eating Disorders Program, Dr. Lavanier serves as the Clinical Director of Eating Disorder Services and is a Certified Eating Disorder Specialist (CEDS). She functions as an outpatient therapist, oversees the eating disorders (EDO) clinical programming across the hospital, and is the lead supervisor for EDO psychology trainees. She also serves as a consulting psychologist for eating disorder services at Cincinnati Children's Hospital Medical Center. She has been trained in CBT-E, Family-Based Therapy (FBT), and Dialectical Behavior Therapy (DBT) in the treatment of eating disorders. In addition, Dr. Lavanier has led outpatient body image groups and has a strong passion for eating disorders prevention work.
Dr. Lavanier also serves as a clinician for multiple other areas in the hospital including the OCD and Anxiety Treatment Program and Dialectical Behavior Therapy (DBT) and Radically Open DBT (RO-DBT) Program. She has completed advanced training and supervision in Exposure and Response Prevention (ERP) from the Behavioral Therapy Training Institute and has received specialized training in the treatment of PTSD through the International Association of Trauma Professionals. She was instrumental in the start-up of the RO-DBT program at LCOH and currently leads an outpatient group.
A more recent passion includes a strong interest in women's health, especially around the areas of fertility, pregnancy, and post-partum periods. She functions as a therapist and member of the Women's Health Program, has pursued multiple trainings in this area, and plans to offer group therapy support as this program continues to grow.
---
The opinions and views of our guest contributors are shared to provide a broad perspective on eating disorders. These are not necessarily the views of Eating Disorder Hope, but an effort to offer a discussion of various issues by different concerned individuals.
We at Eating Disorder Hope understand that eating disorders result from a combination of environmental and genetic factors. If you or a loved one are suffering from an eating disorder, please know that there is hope for you, and seek immediate professional help.
Published October 19, 2020, on EatingDisorderHope.com
Reviewed & Approved on October 19, 2020, by Jacquelyn Ekern MS, LPC