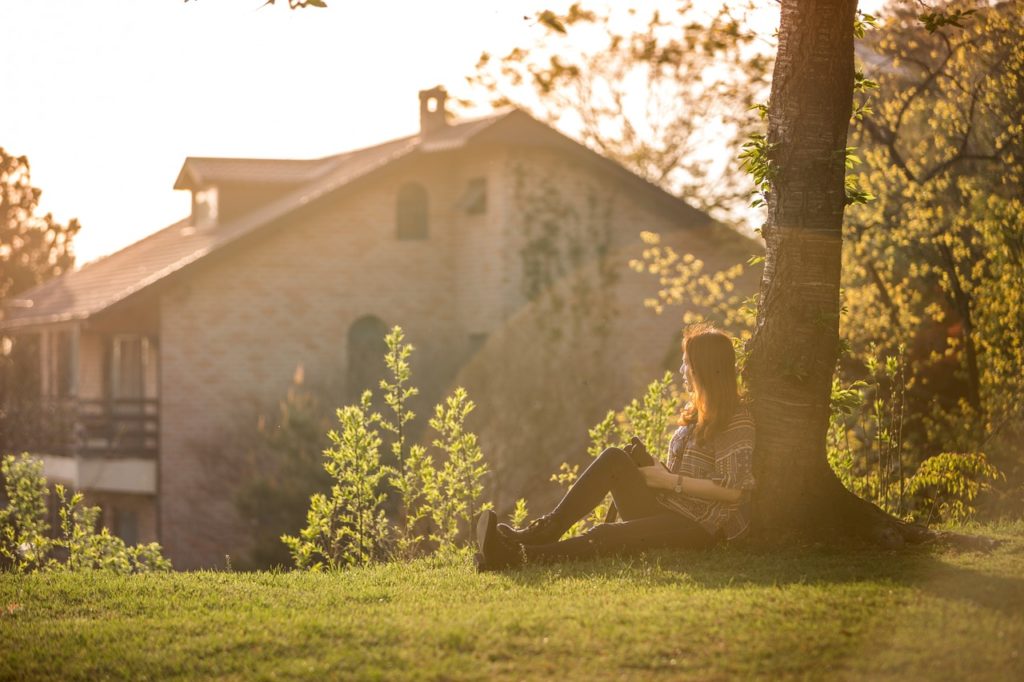 It is a big decision to enter inpatient or residential eating disorder treatment, but it can be instrumental in your healing and recovery. It is crucial to know the right questions to ask when investigating treatment programs.
Here are 10 critical questions to ask to help guide you in your decision:
1. What is the program's accreditation?
It is reassuring to know that the eating disorder treatment field has set high standards for effective treatment. You will want to investigate if the program has CACREP, JCAHO or other forms of accreditation. These agencies conduct an extensive investigation to determine the suitability and quality of a treatment program.
2. Does the eating disorder treatment program accept my insurance or payment method?
Unfortunately, it is hard to find free treatment, but more and more programs are participating with insurance. Be sure to call your insurance company and inquire about what your behavioral health benefits are, specific eating disorder treatment insurance benefits, which programs may be in-network with your plan, and what your deductible is.
Also, speak with the eating disorder treatment program's finance department to determine your payment options and clearly understand the costs of care.
3. Where are your locations?
Some anorexia, bulimia and binge eating disorder treatment programs offer locations in multiple cities and states. Determine if you are willing to travel for treatment. If so, how far are you willing to go? Are you prepared to participate in an out-of-state treatment program if it is a good fit for your specific needs and desires or would it be the best use of your resources to stay close to home and to your support network?
4. Are you able to treat my co-occurring issue?
Most individuals with eating disorders also have other co-occurring diagnoses such as anxiety, depression, PTSD, substance abuse or OCD that can impact the recovery process. It is imperative that the program you choose is able to address all of the contributing factors to your eating disorder.
Inquire how dual diagnosis and other issues are addressed within the program. Do they have specialized programming for dual diagnoses? Ask for specific details about how they treat all the behavioral health issues you are facing.
5. How many individual and group counseling sessions will I receive and what are the providers' credentials?
The program's quality of individualized care will be revealed by this question. You are paying to work with highly trained eating disorder treatment professionals, and there should be extensive individual and group counseling offered.
All psychiatrists should be board-certified and all therapists licensed in their fields. Additionally, there should be regular nutrition counseling and guidance from registered dietitians, access to internists, registered nurses and other specialists.
A strong family therapy component facilitated by licensed therapists should be included for all adolescents and offered for all adults.
6. Does the bulimia, anorexia or binge eating disorder program allow visitors?
Determine who can visit you and what days/hours are set aside for visitors. You will be busy with treatment most of the time. However, it is very nice to be able to reconnect with loved ones throughout your time in treatment.
If you are a parent or caregiver entering treatment, it may be very helpful for your children to be able to visit with you, see you, hug you and know that you are okay. This may lessen the impact of your absence for little ones.
Regardless of age or circumstance, it can make a big difference to be in a program that is accessible to your friends and loved ones. This allows them to visit you and take part in family sessions, workshops, caregiver support groups or other resources that can help them learn more about how to help.
7. What is your Aftercare Program?
There is no quick fix when it comes to recovering from an eating disorder. You will absolutely need and want aftercare. Does the program offer comprehensive care? Determine if step down care is available – such as partial hospitalization, intensive outpatient and ongoing outpatient support.
Also, be sure to ask the program to communicate with your pre-existing treatment team, if one exists.
8. What is your philosophy on special dietary needs?
If you require kosher meals or have other dietary needs, you will need to determine if the program is able to meet them.
Remember, though, that you are seeking treatment for an eating disorder. Some dietary preferences (outside of religious or medical needs) can actually interfere with evidence-based care. The nutrition specialists in these eating disorder treatment programs may know more than you do about how to work towards positive treatment outcomes. Even if you are devoted to your diet rules, it might be wise to consider alternative suggestions for your diet while in treatment.
9. Will I be allowed telephone and internet access?
In our high-tech age, we are seemingly never without our phones and have constant access to our friends, families and social media.
Will it be an issue for you if the eating disorder program limits your access to your phone or computer?
If so, are you willing to make some sacrifices in internet and phone access to comply with the program?
Because accredited programs comply with privacy and confidentiality regulations, many of them limit access to handheld phones and other devices with cameras as a way of protecting your privacy and ensuring the therapeutic space remains safe.
10. Is the treatment you provide evidence-based and backed by research?
This is important because there are studies demonstrating the effectiveness of some common eating disorder treatment therapies and others with very little evidence. You will want to look for a program that provides therapies, like those below, that have the best possible patient outcomes:
Cognitive Behavior Therapy (CBT)
Interpersonal Therapy (IPT)
Family Based Therapy (FBT)
Dialectical Behavior Therapy (DBT)
This is not an exhaustive list of questions, but a great starting point to guide you in interviewing the treatment program. Many other valid questions will come to mind, and you certainly want to ask these, too.
Effective inpatient eating disorder treatment can be life-changing and lay the groundwork for your recovery. Take the time and know the questions to ask to determine if the program is the best fit for you.
Your life may very well depend on it.
---
Sources:
1. (n.d.). Retrieved June 12, 2019, from https://www.jointcommission.org/accreditation/behavioral_health_care.aspx
2. Why Attend an Accredited Program? (n.d.). Retrieved June 12, 2019, from https://www.cacrep.org/
---
About the author:
Jacquelyn Ekern, MS, LPC founded Eating Disorder Hope in 2005, driven by a profound desire to help those struggling with anorexia, bulimia and binge-eating disorder. This passion resulted from her battle with, and recovery from, an eating disorder. As president, Jacquelyn manages Ekern Enterprises, Inc. and the Eating Disorder Hope website. In addition, she is a fully licensed therapist with a closed private counseling practice specializing in the treatment of eating disorders.
Jacquelyn has a Bachelor of Science in Human Services degree from The University of Phoenix and a Masters degree in Counseling/Psychology, from Capella University. She has extensive experience in the eating disorder field including advanced education in psychology, participation, and contributions to additional eating disorder groups, symposiums, and professional associations. She is a member of the National Eating Disorder Association (NEDA), Academy of Eating Disorders (AED), the Eating Disorders Coalition (EDC) and the International Association of Eating Disorder Professionals (iaedp).
Jacquelyn enjoys art, working out, walking her dogs, reading, painting and time with family.
Although Eating Disorder Hope was founded by Jacquelyn Ekern, this organization would not be possible without support from our generous sponsors.
---
The opinions and views of our guest contributors are shared to provide a broad perspective of eating disorders. These are not necessarily the views of Eating Disorder Hope, but an effort to offer a discussion of various issues by different concerned individuals.
We at Eating Disorder Hope understand that eating disorders result from a combination of environmental and genetic factors. If you or a loved one are suffering from an eating disorder, please know that there is hope for you, and seek immediate professional help.
Reviewed & Approved on June 13, 2019, by Jacquelyn Ekern MS, LPC
Published June 13, 2019, on EatingDisorderHope.com