Eating Disorder Hope has put together a list of Indiana eating disorder therapists into a single directory.
Specialists who treat bulimia, anorexia, binge eating, orthorexia, or other forms of disordered eating in their practice include:
Eating disorder therapists (also known as eating disorder counselors, or eating disorder psychologists): Provide regular therapy sessions and may practice more specific forms of therapy such as Cognitive Behavioral Therapy (CBT), Dialectical Behavioral Therapy (DBT), family-based therapy, or other proven treatments for eating disorders. An eating disorder therapist may also treat co-occurring disorders in their practice.
Registered dietitians: Create and maintain a balanced meal plan, and take part in Medical Nutrition Therapy
Eating disorder psychiatrists: Prescribe medications and manage drug therapy
Physicians who specialize in treating eating disorders: Oversee core medical complications that arise from eating disorders (such as heart palpitations, muscle atrophy, chronic migraines, etc.)
Men and women with eating disorders typically create a dedicated treatment team made of an eating disorder counselor, a dietitian, psychiatrist, and physician. This level of comprehensive treatment has been proven to be the most successful method of fighting and recovering from an eating disorder.
Our specialist directory of eating disorder counselors is organized to quickly tell you:
Name, Location & Contact Information
Treatment Setting: Whether the therapist or counselor conducts individual, couples, family, or group therapy sessions
Types of Patients Served: Adolescents and/or Adults, Men and/or Women
Therapies available: The core eating disorder therapies the practitioner uses; CBT, Medical Nutrition Therapy, DBT, etc.
Indiana Eating Disorder Therapists & Specialists

Name / Info
Treatment Setting
Patient Types Served
Therapies Available
Renee Tilt, RDN, CSP
RoundTable Wellness
904 South Street
Lafayette, IN 47901
765-630-7222
Email: [email protected]
Website: RoundTable Wellness
Outpatient nutrition counseling for individuals and families
Adolescents / Adults
Men and Women
Medical nutrition therapy, motivational interview, and Exposure Response Prevention, Nutrition therapy with co-occurring depression, anxiety, and medical concerns such as diabetes, food sensitivities, etc.
Premier Eating Disorder Treatment Therapists
Renee Tilt, RDN, CSP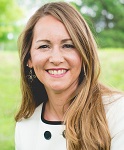 Renee Tilt, RDN, CSP began her career in 2004 with special interests in pediatric nutrition and eating disorders. Renee constantly looked for ways to learn and has immersed herself in the Intuitive Eating and Health at Every Size Models. She also realized the gap in services available to those struggling with eating disorders and disordered eating, and in 2012 she set her sights on opening a multidisciplinary eating disorder treatment center in Lafayette, IN.
RoundTable Wellness was founded in May 2016 and achieved Joint Commission Accreditation as a Behavioral Treatment Facility in March 2018. Renee, along with her team of clinical and administrative staff, strive to help clients, families, and the community heal from the devastating effects of society's mental health and weight stigmas. We provide a safe environment for our clients to explore what recovery means to them while utilizing evidenced-based approaches including CBT, DBT, person-centered therapy, and Intuitive Eating / Health at Every Size Models.
Our approach centers around the belief that FULL RECOVERY IS POSSIBLE FOR EVERYONE!
Renee Tilt, RDN, CSP
Founder, Chief Executive Officer, Registered Dietitian
RoundTable Wellness
765-630-7222
www.roundtablewellness.com
[email protected]

---
Last Reviewed By: Jacquelyn Ekern, MS, LPC on August 29, 2018
Page last updated: August 29, 2018
Published on EatingDisorderHope.com, Eating Disorders Resources & Treatment Information