Eating disorder recovery can be rocky. It is full of relapses and setbacks. All of this is part of the growing process of learning how to have a fulfilled and recovered life from an eating disorder.
When leaving the higher level of care, the sufferer will develop a relapse prevention plan with their treatment team to help navigate the pitfalls of adjusting to a new normal and daily functioning.
When you are supporting a friend who is newly out of treatment, it can be a challenge.
Unhealthy thought patterns and beliefs are still being challenged, and there will be 'good days' and 'bad days' for the newly discharged friend.
Individuals who are recovering are often still plagued with concern about how others may view them and their progress in recovery. They may feel others are watching them eat, or concerned that they are following their meal plan. They may want things to return to 'normal' once discharged. Even though this may be desired, it may not be possible at first.
What Does Recovery Take
Recovery takes ongoing therapy with a therapist, nutritionist, and psychiatrist. It means that peer support groups, or relapse prevention therapy groups are still needed. Sometimes it can mean that intensive outpatient therapy (IOP) might still be required due to step down levels of care.
Recovery is about learning to manage your everyday life without the tools and aids of an eating disorder. It is learning new life-skills, new coping-skills, recognizing and avoiding triggers when possible, and filling your life with healthy loved ones who support your recovery.
It also means learning to balance your life as many sufferers are over-involved or keep extremely busy. It is learning self-care in a healthy way and knowing that letting go of an eating disorder is a bittersweet process, but the best choice for a happy and fulfilling life.
When you are supporting a friend, who is newly out of eating disorder treatment a simple comment can be construed to be hurtful or triggering. Commenting on weight or appearance can confirm their unhealthy belief that individuals judge and notice their weight gain or loss. It can trigger unhealthy thinking and negative body image beliefs.
How to Support Your Friend
Supporting your friend can be a challenge, it is important to first ask them about their recovery and relapse prevention plan. What areas can you provide support for them? It could come in the form of meeting them for a meal or snack and being supportive of them completing their necessary meal plan requirements.
It can also be learning more about eating disorders and letting your friend share with you about their eating disorder personally.
Knowing it is a serious mental health issue and requires therapy, nutritional support, and psychiatric care if necessary [1].
As a friend, it is important to practice unconditional love. As a friend, you are a powerful support for someone who is struggling to recover. Accepting them for who they are, flaws and all is being a loving friend.
Help your friend to see their positive qualities which make them unique, and not just for aesthetic beauty, but being a strong role model within your own life of positive self-esteem and body image. It is learning through example that helps your friend learn how to view him/herself more positively.
Practicing positive phrases, just as food is fuel, and self-care helps you see your body in a new way. It is feeling your emotions and not ignoring them, and that recovery is about self-love and self-acceptance.
Some Tips
When you are unable to be with your friend stay in contact through texting, social media, or picture messages. It makes a difference in a friends life to know you are thinking about them, or see an encouraging message from you.
It can be a reminder that they are bigger than their eating disorder, as often they may get caught up in their 'ED head' of anxiety, depression, and self-loathing. It can also be helpful to give a gift of a framed photo of the two of you, your favorite place, positive quotes or something tangible for them to which they can hold and look.
Often in eating disorder treatment participants will make coping skills boxes where they can put favorite photos, quotes, music, or other items that help them stay grounded to recovery.
Offering to eat a meal with your friend can be powerful.
It can be helpful to meet out at a public place or offer to cook together. It can be less anxiety provoking to have to figure out meal times, food choices and eating alone with a friend available to help. Even going out for non-food related activities is also a great support.
It can be a movie, a gentle hike, or concert, or a visit to a local activity. Many recovered individuals find peace in music. Sending them a playlist of your favorite songs or working together on a playlist to listen together too is a fun activity and way to help support your friend.
In conclusion, there are many ways to support your friend who is new out of treatment. The most powerful support, however, is to unconditionally accept and love your friend for who they are. Remember they will have good and bad days within their recovery process and the best way to support them is to let them know you are there and continue to reach out.
---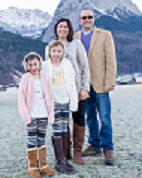 About the Author: Libby Lyons is a Licensed Clinical Social Worker and Certified Eating Disorder Specialist (CEDS). Libby has been practicing in the field of eating disorders, addictions, depression, anxiety and other comorbid issues in various agencies. Libby has previously worked as a contractor for the United States Air Force Domestic Violence Program, Saint Louis University Student Health and Counseling, Saint Louis Behavioral Medicine Institute Eating Disorders Program, and has been in Private Practice.
Libby currently works as a counselor at Fontbonne University and is a Adjunct Professor at Saint Louis University, and is a contributing author for Addiction Hope and Eating Disorder Hope. Libby lives in the St. Louis area with her husband and two daughters. She enjoys spending time with her family, running, and watching movies.
---
References:
[1] What Not to Say to Someone in Recovery from an Eating Disorder & How to Give Support. (2015, July 14). Retrieved June 27, 2017, from http://theprojectheal.org/what-not-to-say-to-someone-in-recovery-from-an-eating-disorder-how-to-give-support/
[2] Knightsmith, P., Says, G., Says, P., Says, S., Says, B., Says, V. K., . . . Says, L. (2015, September 09). Eating Disorders Recovery – 11 ways to support a friend. Retrieved June 27, 2017, from http://www.inourhands.com/mental-health/eating-disorders/eating-disorders-recovery-11-ways-to-support-a-friend/
---
The opinions and views of our guest contributors are shared to provide a broad perspective of eating disorders. These are not necessarily the views of Eating Disorder Hope, but an effort to offer discussion of various issues by different concerned individuals.
We at Eating Disorder Hope understand that eating disorders result from a combination of environmental and genetic factors. If you or a loved one are suffering from an eating disorder, please know that there is hope for you, and seek immediate professional help.
Published on September 12, 2017.
Reviewed By: Jacquelyn Ekern, MS, LPC on September 12, 2017.
Published on EatingDisorderHope.com