It is common for children to have growth spurts and increasing appetites How do you know then if your child is engaging in binge eating or has a normal developmental appetite?  Binge eating can be defined as when a person turns to food to cope with stressful situations. It is an unhealthy relationship with food and a sense of lack of control.
Binge Eating Disorder Defined
Binge eating can occur at any age. It is a behavior that is typically done in secret, at a rapid pace (often the individual does not realize how quickly they are eating or even be able to taste or tell you what they ate), and have a sense of feeling out of control over the behavior.
Immediately following the binge eating episode the person will feel embarrassed and/or a sense of shame [1].
Children who binge eat may begin to gain weight, but can sometimes be overlooked or undiagnosed due to normal weight gain among children and teens. Several signs can differentiate binge eating from healthy developmental eating.
One is looking at how much food is being eaten or is missing from the kitchen.
Assessing how much and how quickly your child eats as well as their pattern of eating, particularly around stressful situations, family conflict, peer rejection, or academic performance.
The child may feel ashamed or disgusted by the amount of food they eat.
Often, empty food containers or plates of food may be found in the child's room.
There are noticeable irregular eating patterns that emerge.
If You Suspect Binge Eating
The first step is to schedule an appointment with your primary care physician or get a referral for a pediatric physician who specializes in eating disorders. Often, these doctors can be found at a children's hospitals in larger cities.
Getting a complete physical, with blood count and metabolic blood tests. These are the first steps in ruling out any other underlying issues before making an eating disorder diagnosis.
Secondly, assessing your own family's values, beliefs, and statements around weight is essential for successful treatment.
Studies on children and binge eating have found that binge eating is significantly associated with parents' beliefs on weight and emotional availability to their children [2].
Also, weight teasing, being mocked, or made fun of for weight issues is more significant and damaging if done by a sibling or parent.
Third, working with a professional clinician on both family and individual child beliefs, values, behaviors, and issues can aid in successful treatment.  Clinicians will also be aware of what treatment modalities and treatment centers are available if and when needed.
Levels of Care Available
Maudsley Model
One level of care is the Maudsley Model. This is a family-oriented treatment model that has evidence-based research and methodologies incorporated into the practice and implementation.
It is a type of treatment that is done at-home with parental and family involvement, and it is also an alternative to residential treatment. The belief is that parents and family members are just as equipped, if not more, to treat their child at home successfully.
Maudsley was traditionally created to work with youth struggling with anorexia nervosa, but has been increasingly used for other types of eating disorders. It is done within a practice setting, with the guidance and support of a trained therapist.
Parents have complete control over food prepping, shopping, and serving of meals of the family. Child supervision of all meals and snacks is done by parents or extended adult family members.
Siblings help with 'cheerleading' and support. The goals are to build a family-team dynamic and parent-child dynamic to help fight against the power of the eating disorder.
Treatment is done on a once-a-week basis and first concentrates on the family and parental involvement. Once the breaking of the binge eating cycle is successful and behaviors are ceased, the goal is to move onto individual treatment mixed with family therapy.
Lastly, the goal is to help both the child and the family find their 'new normal' after the eating disorder.
Residential Care
Another level of care is residential treatment. Some programs offer treatment to children as young as eight years, but most start at age 10. In the residential setting, the child will live 24-hours per day at the facility.
Eating Recovery Center is one example of a program that provides treatment to children for both girls and boys [3]. Often, treatment at this facility is based on medical needs, physical complications, and severity of the eating disorder.
Eating Recovery Center offers treatment using the Maudsley Model in a residential setting to best support families where the eating disorder was too severe to use this model at home.
Many facilities will offer treatment a residential, partial hospitalization, intensive outpatient, and outpatient setting. All settings include sessions with a clinical therapist, psychiatrist, and group therapy. Nutritional therapy is also part of the treatment process.
Partial Hospitalization
Partial-Hospitalization is where the child or teen will go for treatment services up to 12 hours per day and return home at night. Some children will step down to this level, after first starting with residential treatment.
Just as in residential treatment, this level of care offers meals and snacks, which are supervised, group therapy, activities, frequent weekly sessions with the treatment team, and school tutors as needed.
Being able to go home at night not only allows the child to practice new skills but allows the family and parents to reconnect with their child.
IOP
Intensive Outpatient Therapy (IOP) is where the individual goes to group therapy up to seven days per week and attends for three hours at a time. In this setting, the individual, or parents, are responsible for providing meals.
Therapy is held in both a group setting and an individual setting. Nutritional sessions are also provided.
Most of the intensive outpatient programming is done in the evening to allow the child to attend school, but if they start to regress or relapse, the level of care is reassessed.
Binge eating among children is an increasing issue within our Westernized society. Treatment facilities are beginning to increase their services to include youth down to age eight.
Being able to understand the various levels can help you prepare for what treatment options may be needed for your child. Recovering from an eating disorder is possible with proper care, treatment, and services.
---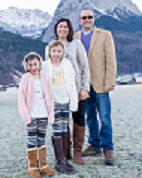 About the Author: Libby Lyons is a Licensed Clinical Social Worker and Certified Eating Disorder Specialist (CEDS). Libby has been practicing in the field of eating disorders, addictions, depression, anxiety and other comorbid issues in various agencies. Libby has previously worked as a contractor for the United States Air Force Domestic Violence Program, Saint Louis University Student Health and Counseling, Saint Louis Behavioral Medicine Institute Eating Disorders Program, and has been in Private Practice.
Libby currently works as a counselor at Fontbonne University and is a Adjunct Professor at Saint Louis University, and is a contributing author for Addiction Hope and Eating Disorder Hope. Libby lives in the St. Louis area with her husband and two daughters. She enjoys spending time with her family, running, and watching movies.
---
References:
[1] Gupta, R. C. (Ed.). (2015, March). Binge Eating Disorder. Retrieved November 21, 2017, from http://kidshealth.org/en/parents/binge-eating.html#
[2] Childhood binge eating: Families, feeding, and feelings. (n.d.). Retrieved November 21, 2017, from https://www.sciencedaily.com/releases/2016/06/160628182630.htm
[3] Recovery Centers Adolescent Levels of Care. (n.d.). Retrieved November 21, 2017, from https://www.eatingrecoverycenter.com/recovery-centers/levels-of-care/child
---
The opinions and views of our guest contributors are shared to provide a broad perspective of eating disorders. These are not necessarily the views of Eating Disorder Hope, but an effort to offer discussion of various issues by different concerned individuals.
We at Eating Disorder Hope understand that eating disorders result from a combination of environmental and genetic factors. If you or a loved one are suffering from an eating disorder, please know that there is hope for you, and seek immediate professional help.
Published on January 21, 2018.
Published on EatingDisorderHope.com