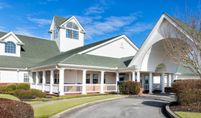 Focus Treatment Centers specialize in treating those suffering from anorexia, bulimia, binge eating and associated disorders including substance abuse disorders in Chattanooga and Knoxville. All programs serve women eighteen and up, with additional treatment for men and adolescents thirteen to seventeen in our intensive outpatient center in Knoxville.
Support and education throughout the treatment process is provided by our experienced and caring staff, who believe that full recovery from an eating disorder is possible. We practice clinical excellence through established and empirically- validated therapeutic models. Our philosophical framework utilizes Acceptance and Commitment Therapy (ACT) to support our patients in achieving long-lasting behavior changes based on acceptance and mindfulness practices.
We also engage our patients in intensive shame resiliency and self-compassion work, trauma therapy grounded in attachment theory and movement therapy, skill building groups based on Dialectical Behavior Therapy (DBT), and expressive therapies such as art, dance, and equine therapy.  Every patient is valued for her unique journey and individual needs, with whole-person care as the basis of every treatment plan.
Focus Treatment Centers Locations/Contact Information
We are located among the beautiful Blue Ridge Mountains of Chattanooga and Knoxville, Tennessee:
Chattanooga – 7429 Shallowford Road, Chattanooga, TN 37421
Knoxville – 2210 Sutherland Ave., Suite 108, Knoxville, TN 37919
Contact us: 423-805-9925 or focustreatmentcenters.com
Whether you have a question about a referral or have additional questions about our programs, we are available to help. This is a place of hope, a place to heal, and a place to truly discover who you are.
---
Focus Treatment Centers Treatment:
Residential, PHP, IOP
Patient Types Served:
Adults / Adolescents
Women Only
Therapies:
EMDR, DBT, Individual psychotherapy, Family and Group therapies, Equine Therapy, Yoga, Art and Expressive therapy, Intensive Relapse Prevention, Didactic and Experiential therapies
423-805-9925
[email protected]
Learn More