"Virtual Hope for Eating Disorder Recovery"
Special Thanks to our Honorary Conference Sponsors
---
Conference Presentations
Margaret Nagib, Psy.D. – Timberline Knolls
Title: Not Beyond Hope: Harnessing the Psychological Power of Hope for Recovery and Beyond
Track: Professional
Margaret Nagib, Psy.D. is a clinical psychologist specializing in Christian counseling, inner healing and treating eating disorders, trauma, addiction, self-injury and mood disorders. For over 15 years, she has provided individual, family and group therapy. Formerly as Spirituality Clinical Director at Timberline Knolls, Margaret created and launched the Christian Treatment path and oversaw the general spirituality program with the goal to restore each resident to wholeness through a deeper relationship with God. View This Presentation
Dr. Margaret Nagib's book, Souls Like Stars: Renew Your Mind, Heal Your Heart, Unveil Your Shine.  You may purchase this wonderful book from Amazon.
Souls Like Stars is an experiential, skills-based guidebook to help you: Get free of the baggage that keeps you from experiencing God and his love on a deeper level; Heal from past hurts and the limiting beliefs and addictive cycles they create to live in the truth of who you really are; Experience the freedom to love and serve others with a whole heart.
---
Crystal Karges, MS, RDN, IBCLC
Title: Pregnancy, Postpartum & Eating Disorder Recovery
Track: General

Crystal Karges, MS, RDN, IBCLC is a Masters-level Registered Dietitian Nutritionist (RDN) with a specialty focus on eating disorders, maternal/child health and wellness, and intuitive eating. Combining clinical experience with a love of social media and writing. As a Certified Intuitive Eating Counselor, Crystal has dedicated her career to helping others establish a healthy relationship with food and body through her work with EDH and nutrition private practice. View This Presentation
---
Kristina Saffran, Liana Rosenman, Grace Patterson – Project HEAL
Title: Giving Back in Recovery: Communities of HEALing
Track: General

Kristina Saffran is the co-founder and executive director of Project HEAL: Help to Eat, Accept and Live: the largest non-profit in the US delivering prevention, treatment financing, and recovery support to people suffering from eating disorders. Kristina and her cofounder Liana started HEAL at 15 years old in recovery from anorexia; they now have 40 chapters across the globe and have become the premier voice of recovery, with over 30k followers on Facebook and Instagram. Kristina was named a 2017 Forbes 30 under 30 social entrepreneur, and has been profiled in The New York Times, Fast Company and People Magazine. She's spoken across the country –Stanford Medical School, Harvard College, The International Conference of Eating Disorders, and more – on eating disorders, recovery, and launching a successful social entrepreneurship as a teen. Kristina graduated from Harvard College with a bachelors degree in psychology in May of 2014. View This Presentation
Liana Rosenman is a co-founder of Project Heal. Project HEAL: Help to Eat, Accept and Live (www.theprojectheal.org) is a 501(c)3 not-for-profit organization that raises money for people with eating disorders who are not able to afford treatment, promotes healthy body image and self-esteem, and encourages all people to believe that full recovery from an eating disorder is possible. The founders of Project HEAL, Liana Rosenman, and Kristina Saffran, met while undergoing treatment for anorexia nervosa when they were just 15 years old. Liana currently works as a 5th grade NEST teacher in New York City and is earning her master's degree in Special Education at Hunter College. She believes an education should empower a child and help him or her make a positive contribution to our world. View This Presentation
Grace Patterson is the Director of Communities of HEALing, Project HEAL's brand new pilot program that connects those new in recovery to support and mentorship. An accomplished trainer, organizer, and strategist, Grace has supported hundreds of leaders in more than 15 countries, helping to develop their skills in intercultural engagement, strengthen their theories of impact, and effectively communicate their visions. Grace brings both her professional experience in program management and training, as well as her personal experience of the transformative power of being in community with those working toward active recovery from an eating disorder, to her work training the amazing Peer Mentors of Communities of HEALing. View This Presentation
---
Dr. Erin Parks, Ph.D. – UCSD Eating Disorders Center for Treatment and Research
Title: "The Neurobiology of Eating Disorders: New Discoveries and Treatments"
Track: Professional

Dr. Erin Parks, Ph.D. is a clinical psychologist and neuroimaging researcher who is passionate about making scientific research accessible to everyone. Dr. Parks spent a decade using neuroimaging tools to study brain plasticity and development before she began specialized clinical training in eating disorder treatment. Dr. Parks graduated from Northwestern University and UCSD/SDSU's Joint Doctoral Program in Clinical Psychology before completing her internship at UC San Francisco and then taking a post-doctoral fellowship at the UC San Diego Eating Disorders Center. Dr. Parks has served as a psychologist in their Adolescent Clinic and inpatient medical behavioral unit, as a manager in their Adult Clinic and Pediatric Clinic, and as a co-lead in their world-renowned one-week intensive programs. Currently serving as the Director of Outreach and Admission, Dr. Parks combines her clinical experience and research knowledge to help the public be better informed consumers of mental health services. View This Presentation
---
McNeill Wester – Coker Capital Advisors
Title: 2018 Behavioral Health Business Forecast & Climate Overview: Eating Disorder & Addiction Treatment
Track: Professional

McNeill Wester is a Managing Director with Coker Capital Advisors. He brings nearly two decades of investment banking and legal experience to the firm. Prior to joining Coker Capital Advisors, McNeil worked in investment banking with a focus on executing mergers and acquisitions for middle market companies at McColl Partners and Fennebresque & Co. where he served as a Managing Director, General Counsel, and Founding Partner. He also practiced law at Moore & Van Allen, where he advised clients on corporate and securities matters. View This Presentation
---
Dr. Nicholas R. Farrell, Ph.D. – Rogers Memorial Hospital
Title: Unique Features and Effective Strategies in Treating Males with Eating Disorders
Track: Professional

Dr. Nicholas R. Farrell, Ph.D. is a licensed clinical psychologist who directs and supervises the treatment of patients in eating disorder programs at Rogers Memorial Hospital. Dr. Farrell specializes in the use of empirically-supported cognitive behavioral therapy (CBT) treatment strategies that are used to help patients in our eating disorders programs. Additionally, Dr. Farrell is a regular contributor to scientific research on the effectiveness and dissemination of CBT for eating, anxiety, and mood disorders and has published over 20 peer-reviewed journal articles and book chapters. Dr. Farrell has been the gracious recipient of federal grant funding to study the role of social stigma in the context of eating disorders. View This Presentation
---
Brian Cuban – Author, Attorney & Speaker
Title: Males, Eating Disorders & Addiction: My Recovery Story
Track: General

Brian Cuban, the younger brother of Dallas Mavericks owner and entrepreneur Mark Cuban, is a Dallas based attorney, author, and addiction recovery advocate. He has been in recovery from alcohol, cocaine, and bulimia since April of 2007. His first book, Shattered Image: My Triumph Over Body Dysmorphic Disorder, chronicles his experiences living with and recovering from, twenty-seven years of eating disorders, and Body Dysmorphic Disorder (BDD). Brian's most recent book, The Addicted Lawyer, Tales of The Bar, Booze, Blow, & Redemption, is a look at how addiction and mental health issues destroyed his career as a lawyer and how he and others in the profession redefined their lives in recovery and found redemption. View This Presentation
---
Nikki DuBose – Author & Television Personality
Title:  My Eating Disorder & Addiction Recovery Story & Insights into My Soon to be Released Memoir!
Track: General

Nikki DuBose is a model, author, and advocate. She is the Co-Founder of The Artists League for Change, a national nonprofit dedicated to preventing mental health issues and abuse through the creative arts, and is an Ambassador for the Shaw Mind Foundation. Her debut memoir, "Washed Away: From Darkness to Light" was released September 30, 2016, in the U.S. and will be released in French in 2018 with Editions du Rocher. View This Presentation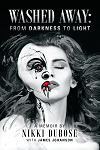 Nikki DuBose's book, Washed Away: From Darkness to Light.  You may purchase this wonderful book from Amazon.
Washed Away: From Darkness to Light is a memoir that recounts the experiences of model Nikki DuBose as she overcomes a more than seventeen-year battle with abuse, child sexual victimization, eating disorders, psychosis, alcoholism, drugs, depression, suicide attempts, body dysmorphic disorder, and various other mental health issues, all while trying to navigate through the dark side of the fashion industry.
---
Charlotte Sandy – Remuda Ranch Alumni
Title: My Eating Disorder Recovery & How I Reclaimed My Life
Track: General

Charlotte Sandy is a social worker, Christian, blogger, wife, and dog mom. She struggled with an eating disorder starting at age 13 but has been in recovery for years. In her professional life, she works in a managed care setting. In her personal time, she enjoys her native state of Michigan, friends, family, writing, serving, church, and reading. By writing about eating disorders/ mental health and participating in eating disorder advocacy, she hopes to show others recovery and healing are possible. View This Presentation
---
Jerry L. Law, D. Min., MDAAC, CIP
Title: Breaking The Ties That Bind ….Intervening on a loved one in the grips of ED
Track: General

Jerry L. Law, D. Min., MDAAC, CIP is a veteran of 25 years in the corporate world, and his strong leadership and organizational skills lend themselves naturally to the intervention process. Dr. Law is a Board Certified Professional Christian Counselor, a Board Certified Intervention Professional and a Master Certified Drug Alcohol and Addictions Counselor. Jerry brings compassion and a first-hand understanding about how critical it is to break the cycle of addiction in the professional world as well as within the family. View This Presentation
---
Jena Morrow, CADC  – Timberline Knolls
Title: My Eating Disorder Recovery Story & Creating A Life of Substance
Track: General

Jena Morrow, CADC is the Alumnae Coordinator at Timberline Knolls. She develops and maintains relationships with former TK residents after they return home. This is accomplished via phone, email, social media, and other avenues of communication. Jena is responsible for producing and facilitating various alumnae events, including monthly on-campus gatherings as well as an annual retreat in the Chicago area. She is constantly striving to grow and evolve the alumnae program, which she helped create, and manages an active Alumnae Board and network across the country and world. View This Presentation
Jena Morrow's book, Hope for the Hollow.  You may purchase this wonderful book from Amazon.
Hope for the Hollow is a practical, relevant devotional/ journal guide to gently encourage and inspire women to dare to replace lies with the glorious, revealing truth regarding their bodies. Each of the thirty devotionals includes an applicable passage of Scripture dealing with underlying themes of eating disorders such as guilt, shame, control, fear, and pride. Drawing upon her own experiences as a believer recovering from anorexia, Jena candidly shares her heart and relays the lessons she has learned along the way.
---
Jessica Setnick, MS, RD, CEDRD
Title: Beyond DSM-5: A New Model of Dysfunctional Eating Behaviors.
Track: Professional

Jessica Setnick, MS, RD, CEDRD is the owner of Congruence Consulting and EatingDisorderJobs.com. A Certified Eating Disorder Dietitian and CEDRD Supervisor, Jessica is the author of The Eating Disorder Clinical Pocket Guide and Eating Disorders Boot Camp. She is a co-founder of IFEDD, the International Federation of Eating Disorder Dietitians. View This Presentation
Jessica Setnick's book, The Eating Disorders Clinical Pocket Guide.  You may purchase this wonderful book here. 
The Eating Disorders Clinical Pocket Guide is a goldmine of tables, advice, and guidelines for doctors, nurses, dietitians and counselors in every area of practice. NOW UPDATED to include the new DSM-5 Eating Disorder Diagnostic Criteria.
---
Kirsten Haglund
Title: My Eating Disorder Recovery & Founding the Kirsten Haglund Foundation
Track: General

Kirsten Haglund served as Miss America in 2008 and now is proud to be the Community Relations Specialist for Timberline Knolls Residential Treatment Center and an "Ambassador" for the National Eating Disorders Association (NEDA).  As a television personality and commentator, Kirsten appears frequently on Fox News Channel, HLN, Fox Business Network, and Huff Post Live to comment on women's health issues, celebrity culture, social issues, women's empowerment and the millennial generation. View This Presentation