Looking Forward to Recovery: Finding Encouragement in your recovery from Bulimia
Contributor:  Carrie A. Decker, Naturopathic physician www.BlessedThistle.info
It is an unfortunate yet true reality that recovery from an eating disorder is not just a "quick fix" scenario.  Similar to many other diseases which are chronic in nature, support for healing must be continued for a long period of time.  Fortunately with time the healthy actions which are taken instead of bulimic behaviors become more instinctive, but with stress and emotional trauma one still may experience a desire to cope with life with disease behaviors.  While an individual is moving along the path of recovery it is very important to have support because this should not be a solo venture.  In addition to the support that one may find from friends and family, it is important to have professionals who are trained in the issues associated with eating disorder as a part of the team.
Therapist
One of the primary people that should be included in any recovery program is a therapist with experience working with eating disorders.  In sessions with a therapist one may address the behavioral issues which are challenging them, other stressors in life, emotional well being, and relationship issues among many other things.  For some people who struggle with bulimia, family or other relationship challenges were a part of the dysfunction leading to the eating disorder and it is very important to have an outside source of support as these issues are worked through.  For this reason family or couples therapy also may be important because it never is just the person who developed the eating disorder with issues that need to be addressed.
Nutritionist
Having a nutritionist or dietician who has experience working with eating disorders also may be necessary.  Working through challenges of an appropriate meal plan that will help to both nourish and decrease the tendency for binging can help to aid recovery.  Dietary deficiencies can lead to overeating for both people with bulimia and individuals who don't have an eating disorder.  A complete food-based multivitamin or more directed nutritional support may help to reduce this as a contributing factor.  Although one may have occasional struggles with binging and purging, having a healthy meal plan to return to as quickly as possible is one way to prevent these behaviors from continuing.  A dietician or nutritionist to check in with around eating behaviors helps to ease the struggles one might have with the actual food-stuff.
Other medical professionals
It may be important for other medical professionals to be a part of a recovery team as well.  If there is concern related to cardiovascular, digestive, or mental health, it is important to have a physician that one is checking in with regularly until these issues are resolved or in a state of balance. Naturopathic doctors can be a part of this team as well; there is much they can do with nutritional, herbal, and homeopathic support to help reduce problems with digestion, anxiety or depression, and sleep.  Other alternative medicine practitioners may also serve a role whether this is with acupuncture, massage and tissue release, or other energetic therapies such as Reiki and Craniosacral treatment.  Many people find that the use of alternative medicine compliments other aspects of recovery quite well as it helps to address issues that one might not be consciously aware of.
Group Support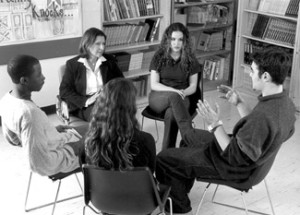 In larger communities there may be a variety of organized eating disorder support groups that individuals who struggle with eating disorders can attend.  Some individuals utilize the support from a 12-step program of recovery and groups such as Overeater's Anonymous or Eating Disorders Anonymous can be helpful.  The National Association of Anorexia Nervosa and Associated Disorders (ANAD) also has listings of support groups by state or region for individuals in recovery from eating disorders.  Some of these resources also offer online or phone meetings via which individuals in distant regions or without transportation are able to attend a meeting and find a group source of support.  In some communities churches also offer faith structured programs of recovery.  Celebrate Recovery is one such example which provides a Christian format similar to the 12-step programs, but others can be found which use different faith-based teachings to support one in recovery.
The support that is necessary in recovery is different as much as we all are individuals. It also will vary depending on the place you are at in recovery.  If just leaving a treatment center there obviously is a greater need for support, and one may find it necessary to be involved in outpatient therapy resources on a daily basis. Beyond this however needs may change, and challenges such as moving to a new city or starting college may be a point to anticipate increased challenges and seek out groups to become involved in before things become a problem.  After all, part of what such support offers can be friendship and connection, which everyone needs more from time-to-time!
Community Discussion – Share your thoughts here!
Who made up your support team in your recovery?
---
About the author:
Dr. Carrie Decker is a board-certified naturopathic physician with the North American Board of Naturopathic Examiners, graduating with honors from the National College of Natural Medicine in Portland, Oregon. Dr. Decker works with clients locally in Wisconsin as well as distant regions via telemedicine (Skype or phone) services.
To find out more about Dr. Decker or naturopathic medicine, visit www.BlessedThistle.info or call 608.620.5831.
---
The opinions and views of our guest contributors are shared to provide a broad perspective of eating disorders.  These are not necessarily the views of Eating Disorder Hope, but an effort to offer a discussion of various issues by different concerned individuals.  We at Eating Disorder Hope understand that eating disorders result from a combination of environmental and genetic factors.  If you or a loved one are suffering from an eating disorder, please know that there is hope for you, and seek immediate professional help.
Last Updated & Reviewed By: Jacquelyn Ekern, MS, LPC on September 18, 2015. Published on EatingDisorderHope.com