Contributor: Article Provided By: Cynthia Bulik, PhD, FAED, Founding Director, University of North Carolina Center of Excellence for Eating Disorders, Professor, Karolinska Institutet, Stockholm, Sweden. Principal Investigator: Anorexia Nervosa Genetics Initiative (ANGI)
Several months ago, I wrote an Eating Disorders Hope blog post introducing the Anorexia Nervosa Genetics Initiative (ANGI) and our global quest toward engaging 25,000 individuals who have had anorexia nervosa at any time in their lives (#AN25K) to answer brief questions about their experience with anorexia nervosa and donate a blood sample to help us unlock the genetics of the disorder.
We're excited to report that participation has been enthusiastic around the world, but that we still need thousands of volunteers to help us reach our goal.
How Are We Doing and Why 25,000?
The goal of 25,000 participants may seem high high, but it isn't arbitrary. Genomic studies of other disorders have shown that sample sizes that large necessary to identify the hundreds of genes that contribute to complex illnesses.
Complex disorders, line anorexia nervosa, bipolar disorder, and autism for example, are caused not by one gene with a large effect, but by many and most likely hundreds of genes, each exerting a small effect. In addition, the genes may interact with each other (gene x gene interaction) and they may interact with environmental factors (gene x environment) to increase risk of developing the disorder. So in order to detect these small effects, we need big numbers.
Recruiting Around the World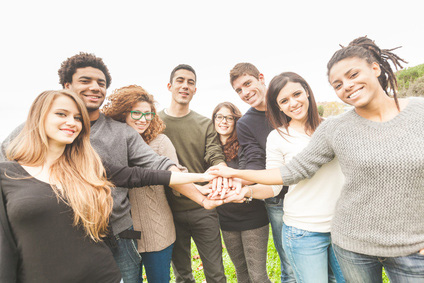 Here's how we're doing so far. ANGI has recruited 829 individuals in the US, 1829 individuals across Australasia, 2502 individuals in Sweden, and 3773 individuals in Denmark. We have one more year to go in recruitment so we really need to push to the finish line.
Charlotte's Helix in the UK is also making progress. After a great morning on the BBC Woman's Hour, our numbers climbed by 316. We also launched a genetic study of anorexia in the Republic of Ireland where they will begin recruitment soon.
What Have We Learned Thus Far?
Our work is already bearing fruit. Genomics is a rapidly advancing field and new techniques allow for data to be explored in ways previously considered to be impossible.
A new statistical technique called LD Score Regression allows us to calculate genetic correlations between different disorders. It allows you to determine whether the same genetic factors are influencing different disorders and also whether that shared influence is in the same direction (positive genetic correlation) or opposite direction (negative genetic correlation).
Genetic Correlations
A fascinating paper estimated 300 genetic correlations among 25 psychiatric and medical traits (including anorexia nervosa). Two of the most intriguing genetic correlations that emerged from this gigantic analysis involved anorexia nervosa.
First, there was a significant negative genetic correlation between anorexia and obesity (and BMI), suggesting that the same genetic factors influence normal variation in BMI as well as dysregulated BMI in anorexia. This finding encourages us to pay more attention to the metabolic aspects of anorexia nervosa in future research.
Anroexia and Schizophrenia
Second, there was a significant positive correlation between anorexia nervosa and schizophrenia. Now this is not the most common comorbid condition that we see in people with anorexia nervosa; however, clinically our patients do often refer to family members who have had schizophrenia.
This finding tells us that some of the same genetic factors may be contributing to risk for anorexia and schizophrenia. The nature of some of the very concerning perceptions (i.e., seeing one's body or parts of one's body as larger than they are) and cognitions (i.e., extreme fear of weight gain, inaccurate thoughts about body and food) in anorexia has long been debated.
Exploring More Deeply
All sorts of descriptors have been applied to these mental processes such as distorted cognitions and over-valued ideation, but this finding encourages us to explore more deeply whether some of these processes in anorexia may stem from some of the same origins as distorted thoughts and perceptions in schizophrenia.
These exciting results are just the beginning of the work that we will be able to do once we reach our AN25K goal and they illustrate that even now, with smaller sample sizes, our collaboration is yielding valuable information that is allowing us to understand more how psychiatric and somatic conditions are related to each other on a genetic level.
Celebrating Our Target
We so look forward to the celebration when we reach our target, which we will share with everyone who has contributed his or her DNA to any of the global efforts to reach AN25K. Below are all of the contact details for participation around the world.
If you have had anorexia nervosa at any time in your life and are keen to be part of this global team, please sign up. If you know someone who might be interested in participating, please pass this information along.
If you have a friend who has never had an eating disorder and would like to serve as a control for the study (i.e., be in the comparison group of people who have never suffered from an eating disorder), pass this information on to them too. This is teamwork! Every participant is part of this worldwide team and by working together, we will shed light on the biology of this pernicious illness and put that knowledge to work toward prevention and cure.
So please don't wait:
ANGI United States:
Email: [email protected]
Phone: 919.966.3065
www.unceatingdisorders.org/angi
ANGI Australia:
Email: [email protected]
Freecall ANGI on: 1800 257 179
(if in New Zealand):,angi.nz
ANGI Sweden
ki.se/angi
Charlottes Helix UK
www.charlotteshelix.net
Email: [email protected]
Ireland
pending
Community Discussion – Share your thoughts here!
---
About the Author:
Cynthia M. Bulik, Ph.D., FAED, is the Founding Director of the University of North Carolina Center of Excellence for Eating Disorders, Distinguished Professor at the University of North Carolina at Chapel Hill and Professor at the Karolinska Institutet in Stockholm, Sweden.
A clinical psychologist, Dr. Bulik has been conducting research and treating individuals with eating disorders since 1982. She received her BA from the University of Notre Dame and her MA and PhD from the University of California, Berkeley. She completed internships and post-doctoral fellowships at the Western Psychiatric Institute and Clinic in Pittsburgh, PA and developed treatment services for eating disorders in New Zealand and the United States.
Her research includes treatment, laboratory, epidemiological, twin and molecular genetic studies of eating disorders and body weight regulation. She has active research collaborations in over twenty countries around the world. She has published over 490 papers and chapters on eating disorders and is author of seven books including Crave: Why You Binge Eat and How to Stop, The Woman in the Mirror, and Midlife Eating Disorders: Your Journey to Recovery. Her latest book Binge Control: A Compact Recovery Guide was released in February 2015.
Her work life is enriched by being happily married, the mother of three children, a gold medalist in ice dancing, and an avid ballroom dancer. Read more at http://cynthiabulik.com.
The opinions and views of our guest contributors are shared to provide a broad perspective of eating disorders. These are not necessarily the views of Eating Disorder Hope, but an effort to offer discussion of various issues by different concerned individuals.
Last Updated & Reviewed By: Jacquelyn Ekern, MS, LPC on July 31st, 2015
Published on AddictionHope.com