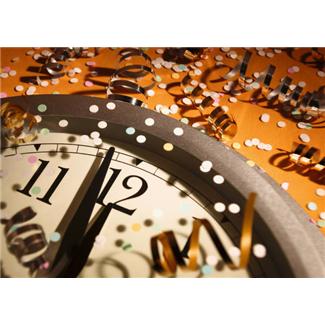 The New Year brings with it a sense of hope for a better future, the air filled with aspirations for improved beginnings.  For many, the New Year represents a chance to start anew, to leave behind unwanted memories and trials and face brighter opportunities.
Often, the New Year symbolizes a period of time where men and women resolve to make changes in their health, usually including something along the lines of weight loss, extreme exercise, or following another diet fad.  A recent survey published by Franklin Covey showed exactly this:  'Becoming more physically fit' was America's top 2013 New Year's resolution, and 'Losing Weight' was the fourth more popular resolution [1].
These resolutions can become problematic for any individual who is struggling with an eating disorder or who is susceptible to developing one.  A seemingly simple resolve to become "healthier" can quickly become a downward spiral if taken to extreme measures.  Severely restricting caloric intake, or any form of exercise done excessively can subtly take the disguise of "healthiness", but eating disorders thrive on such disparities.
In light of this, those who are fighting for their recovery, or even loved ones of an eating disorder sufferer, might wonder: what is the best way to approach the New Year while submerged in a society with such fanaticism about weight loss and exercise?
According to Jacquelyn Ekern, MS, LPC, President of Eating Disorder Hope, "New Year's resolutions can be a positive thing.  A fresh new year to develop healthy and uplifting behaviors and habits that will enrich your life!  Very enticing…but, for many of us that are in recovery from eating disorders, it may be more helpful to focus on a one day at time approach of committing to our recovery plans, rather than overwhelming ourselves with the idea of committing 'forever after' to a plan."
Those who are in an eating disorder recovery journey understand that it is not simply a resolution that keeps them going; it is a commitment.  While many New Year's resolutions fizzle and fade as the months pass by, determining to stay the course of recovery is a hard fought battle that takes place everyday.
Demi Lovato, singer, actress, and anti-bullying spokesperson, summed this up well in her statement about recovery: "Recovery is something that you have to work on every single day and it's something that it doesn't get a day off."  While resolutions may lead to temporary changes or improvements, recovery achieves life-saving transformations, something that can make all the difference between life and death, true health and disease, hope and disparity.
If you or a loved one is fighting for Recovery from an eating disorder, you may be feeling the pressures of New Year's resolutions.  Be encouraged where you are today and how far you have come.  Make a resolution that supports your recovery, such as being more kind and compassionate towards yourself, practicing a self-nurturing lifestyle, or asking for help when you need it.  If you're not sure where to begin, check out our Top 10 Tips for Eating Disorder Recovery for great suggestions.  Recovery is a painstaking process, but every laborious effort will reap rewards beyond measure!
From all of us at Eating Disorder Hope, Happy New Year!
References:
[1]:http://getorganized.fcorgp.com/go/2013_new_years_resolutions_survey_hints_consumer_optimism