Eating disorders within the film industry are rampant. According to Emma Thompson, who opened up a candid dialogue in a recent interview, actresses and actors are often pushed to the point of starving themselves [1].
The actress opened up about an incident on a film set in 2008 when she was filming Brideshead Revisited. One of the actress was asked to lose weight, and Emma stated that she told the producers they were not to speak to her about that on any level again, or she would leave the picture.
Emma Thompson is not alone in speaking up about the severity of eating disorders in the film industry.
There are many films internationally that address the issue of eating disorders among both males and females. Here we discuss ones from various countries that have debuted at international film festivals, or are up-and-coming films to look for.
International Films that Depict Eating Disorders
My Skinny Sister from 2015 is a Swedish film, winner of the Crystal Bear and Audience Award at the Goteborg Film Festival [2].
This film tells the story of two sisters, Stella and Katja. They have a humorous, love-hate relationship. Katja is an ice skater and Stella tries to emulate her sister, but is not as talented at the sport. The story looks at Katja's success and the onset of an eating disorder.
Empty is another film that was an award winner for Short Film and Social Realist Drama [3]. It follows Kiera as she struggles to live her day to day life while suffering from an eating disorder.
Anorexia: A Boy in a Girl's World was a BBC news segment about Charles, a 17-year-old with anorexia nervosa [4]. This piece explores what it feels like to be a young male with an eating disorder. The documentary follows Charles after he has been in an eating disorder program for two years. As part of his recovery, he returns to his former school to reconnect with his friends and openly discuss anorexia nervosa and his journey.
An up-and-coming Australian film is called The Mannequin Project, which began in 2013 by experts to provide a dedicated response to body dissatisfaction using research, digital media and a narrative documentary [5]. The developers said their goal is to reveal the subconscious in everyday actions to help individuals make clearer choices about what they value in themselves and others.
Embrace is another documentary that just came out this past year. This Australian documentary follows a 30-something mom who struggled with her own body image and self-image.
She shares her story of weight loss, gain, and body acceptance, traveling around the world and visiting various modes of industry to see what others also think about the way females are conceptualized.
This film is riveting and powerful, as it makes you think about your own self-image and body awareness. It works to dispel cultural myths and unrealistic standards of beauty.
Eating Disorders in American Films
Just Eat is a documentary that explores why eating disorders are misunderstood in America. Filmmaker Laura Kezman created the documentary that follows two eating disorder individuals, one male and one female, as they navigate their illness and face roadblocks to recovery.
Kezman decided to make the film after being personally diagnosed with anorexia nervosa in 2006. Wasting Away is another short film that highlights the battle young women face as they struggle with eating disorders [6, 7]. It follows patients at the adolescent eating disorder unit at Sydney Westmead Hospital diagnosed with anorexia nervosa.
To the Bone, which stars Lily Collins, is a new film about a woman seeking treatment for her anorexia nervosa as she battles her personal life [8]. It recently debuted at the 2017 Sundance Film Festival.
Collins reported in a previous interview that it was more dramatic role for her to play this role since she herself struggled with an eating disorder as a teenager. Prior to the film, Lily had published a book where she talked about her experiences and struggle to recover from her eating disorder.
Another movie which was produced by two teen girls in 2013 is a short film about young women with eating disorders [9]. This four-minute film, You Are Beautiful, was a winner in the My Hero International Film Festival and recognized through the Viewer's Choice award at the annual Colorado Colorful Film Festival. It is about teen girls who feel disconnected and isolated while struggling with bulimia.
The Likeness is also a short film about a teen girl who struggles with bulimia [9]. It was produced by a Hollywood filmmaker, and the heroine of the film passes out in a social crowd of friends and family. In this film, she is then seen in the hospital where she is struggling to eat, showing the internal battle that those with an eating disorder face.
In conclusion, the film industry does not discourage eating disorder behaviors within its actors and actresses, and is perpetuating the societal view of how men and women should look. These films give a deeper look into the thoughts, behaviors, and patterns of those who struggle with this disease on a daily basis.
---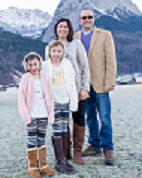 About the Author: Libby Lyons is a Licensed Clinical Social Worker and Certified Eating Disorder Specialist (CEDS). Libby has been practicing in the field of eating disorders, addictions, depression, anxiety and other comorbid issues in various agencies. Libby has previously worked as a contractor for the United States Air Force Domestic Violence Program, Saint Louis University Student Health and Counseling, Saint Louis Behavioral Medicine Institute Eating Disorders Program, and has been in Private Practice.
Libby currently works as a counselor at Fontbonne University and is a Adjunct Professor at Saint Louis University, and is a contributing author for Addiction Hope and Eating Disorder Hope. Libby lives in the St. Louis area with her husband and two daughters. She enjoys spending time with her family, running, and watching movies.
---
References:
[1] (n.d.). Retrieved May 21, 2017, from http://abcnews.go.com/GMA/video/emma-thompson-opens-eating-disorders-film-industry-46435039
[2] (n.d.) Retrieved May 10, 2017, from https://nwfilm.org/films/my-skinny-sister/
[3] (n.d.) Retrieved May 10, 2017, from https://www.youtube.com/watch?v=P65pajLA9io
[4] (n.d.) Retrieved May 10, 2017, from http://www.healthline.com/health/eating-disorders/best-videos-of-the-year#3
[5] (n.d.) Retrieved May 10, 2017, from  http://www.documentaryaustralia.com.au/films/1837/the-mannequin-in-me
[6] (n.d.) Retrieved May 10, 2017, from  http://www.huffingtonpost.com/2015/03/04/just-eat-eating-disorder-documentary_n_6786012.html
[7] (n.d.) Retrieved May 10, 2017, from https://www.journeyman.tv/film/768
[8] Schnurr, S. (2017, January 23). Lily Collins Reflects on Her Teenage Eating Disorders. Retrieved May 21, 2017, from http://www.eonline.com/news/823684/lily-collins-reflects-on-her-teenage-eating-disorders-what-a-huge-moment-this-is-for-me
[9] LCSW, J. J. (2013, December 23). What Is Life Like With an Eating Disorder? Watch This to See. Retrieved May 21, 2017, from http://www.huffingtonpost.com/jennie-j-kramer-msw-lcsw/what-is-life-like-with-an_b_4489905.html
---
The opinions and views of our guest contributors are shared to provide a broad perspective of eating disorders. These are not necessarily the views of Eating Disorder Hope, but an effort to offer discussion of various issues by different concerned individuals.
We at Eating Disorder Hope understand that eating disorders result from a combination of environmental and genetic factors. If you or a loved one are suffering from an eating disorder, please know that there is hope for you, and seek immediate professional help.

Published on July 9, 2017.
Last Updated & Reviewed By: Jacquelyn Ekern, MS, LPC on June 23, 2017.
Published on EatingDisorderHope.com