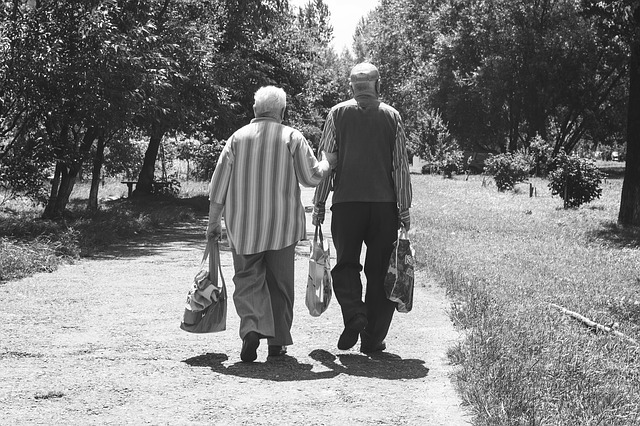 Contributor: Leigh Bell, BA, writer for Eating Disorder Hope
My 96-year-old grandfather doesn't like to eat.
His innate drive for nutrition is gone. It's as if he doesn't have the energy for it. Sure he's pushing 100 and lives in a retirement home; but the nurses try to get him up for meals (chef-prepared, not school-lunch quality) and he doesn't "want a part of any of it."
Same goes for the tray they later bring into him, begging him to take a bite or two.
This is my "PaPa," who once valued food simply because he didn't always have it. He was the oldest of 13 children, and when his father died unexpectedly, my 12-year-old grandfather went to work in an economy teetering on the Great Depression.
This is why, my mother would explain, PaPa filled his plate with food and then guarded it with his wide, wiry forearms, as if at any moment someone would take it.
When I visit Papa, I feed him nuts. One by one. Sometimes he recognizes me, and we can talk about his days in World War II. How he cut fellow soldiers' hair for side money and, upon his return, snuck in a dog to the United States first on a plane, then a bus, and finally, a taxi.
The dog lived two decades. My Papa obviously, will not; and he won't live much longer if he doesn't eat.
Elderly Individuals May Become Anorexic as They Lose Their Desire to Eat
Many elderly people lose the desire to eat and become clinically anorexic, not necessarily in the sense we normally understand it, but still anorexic. An eating disorder is often more detrimental to an older person whose body does not have the resilience it did in youth.
Most people consider eating disorders an illness of young females, but professionals are increasingly detecting the devastating illness in the geriatric population, especially in elderly women, but also elderly men.
78% of Deaths Due to Anorexia Occur  Among the Elderly
Eating disorders have increased to the point that the majority of deaths currently secondary to anorexia nervosa in this country occur in people aged 65 and older. [1] A secondary cause of death assists the primary cause and is of secondary importance.
Also, in America 78% of deaths due to anorexia occur amongst the elderly, not the young.
Poor nutrition is shown to cause and/or progress chronic illnesses common in the elderly, such as osteoporosis, arthritis, and organ disease. [2]
Body image is another reason the elderly, especially women, have for not eating. Society tends to think older women don't struggle with their self-image like younger women do, but research shows that's simply not true.
A study of 1,000 women age 60-70 found 80% controlled their body weight and 60% were unsatisfied with their bodies. [3]
Another study of women over the age of 50 round 70% were trying to lose weight and 13% of the women showed symptoms of an eating disorder. [4]
"To many people who are still under the false impression that eating disorders are the province of adolescent and young adult women, these results are a real eye-opener," says Cynthia Bulik, lead researcher of the study.
There are Numerous Reasons the Elderly Lose the Desire to Eat
My Papa isn't body conscious – at least I don't think so – but, like him, older people simply tend to lose the desire to eat, and the reasons why are either physiological, psychological, or both.
Some elderly experience physical effects that slow an appetite, like poorly fitting dentures or damaged teeth, as well as prescription medication, of which major users are the elderly population. Some medications cause malabsorption of nutrients, loss of appetite, and gastrointestinal issues that may hinder eating.
Also, senior citizens may be less physically active, leading to reduced caloric burn, and therefore, lessened caloric need.
While there's good evidence to show eating less is largely a physiologic effect of healthy aging, it "may predispose to the harmful anorectic effects of psychological, social, and physical problems that become increasingly frequent with aging." [5]
Protein-energy malnutrition is associated with impaired muscle function, decreased bone mass, immune dysfunction, anemia, reduced cognitive function, poor wound healing, delayed recovery from surgery, and ultimately increased morbidity and mortality. (Donini, et. al., 2003).
But eating less, or hardly anything at all, can also be in the mind of older people who are making the transition from adult to elderly.
My Papa went into assisted living not because he couldn't take of himself. He couldn't take care of my Grandma, who had dementia. When they moved into an apartment on the assisted-living campus, my Papa lit up the place. He was nearly 90 years old and helped care for the rolling grass and grounds of the assisted living complex. He played cards every day and teased the nurses to the point of irritation.
Then my Grandma died, and with her went his zest. That energy and mischievousness dwindled to nearly nothing.
Depression Can Cause Eating Disorders Among the Elderly
Like many other elderly people, my Papa was depressed. Older people go through many transitions, which are typical catalysts to an eating disorder despite one's age. They send off their children. Retire from work and live on a reduced income. Attend funerals of their acquaintances and, then, their friends.
They may leave, like my Papa, the home in which they've lived for 50 years and downsize to a communal home they've never seen. Now, they are without their neighbors, routine, autonomy. Depression is common but largely overlooked in the elderly population. Other people think they are tired, or simply just getting older. Depression in the elderly could also point to unresolved issues of the past and realization that the time for resolution is lessening.
"The underlying psychological or behavioral issues that can precipitate and fuel geriatric anorexia can infiltrate the lives of the susceptible elderly and progress undetected by these patients, their families, and their caregivers, a camouflaged and potentially lethal invader if not recognized and treated judiciously." (Dudrick, 2013).
Community Discussion – Share your thoughts here!
What has been your experience with eating disorders within the elderly? Has your loved one sought treatment, what has worked well?
---
About the Author: Leigh Bell holds a Bachelor of Arts in English with minors in Creative Writing and French from Loyola Marymount University in Los Angeles. She is a published author, journalist with 15 years of experience, and a recipient of the Rosalynn Carter Fellowship for Mental Health Journalism. Leigh is recovered from a near-fatal, decade-long battle with anorexia and the mother of three young, rambunctious children.
---
References
[1]:
Dudrick, S. (2014). Older clients and eating disorders. Today's Dietitian, 15(11), 44.
[2]:
How to prevent elderly anorexia | My Ageing Parent. (2014, August 30). Retrieved December 18, 2015.
[3]:
Mangweth-Matzek, B., Rupp, C. I., Hausmann, A., Assmayr, K., Mariacher, E., Kemmler, G., & Whitworth, A. B. and Biebl, W. (2006), Never too old for eating disorders or body dissatisfaction: A community study of elderly women. International Journal of Eating Disorders, 39, 583–586.
[4]:
Gagne, D., Von Holle, A., Brownley, K., Runfola, C., Hofmeier, S., Branch, K. & Bulik, C., (2012). Eating disorder symptoms and weight and shape concerns in a large web-based convenience sample of women ages 50 and above: Results of the gender and body image (GABI) study. International Journal of Eating Disorders, 45: 832–844.
[5]:
Donini, L., Savina, C., Cannella, C. (2003). Eating habits and appetite control in the elderly: the anorexia of aging. International Psychogeriatrics, 15(1), 73-87.
---
The opinions and views of our guest contributors are shared to provide a broad perspective of eating disorders. These are not necessarily the views of Eating Disorder Hope, but an effort to offer discussion of various issues by different concerned individuals.
We at Eating Disorder Hope understand that eating disorders result from a combination of environmental and genetic factors. If you or a loved one are suffering from an eating disorder, please know that there is hope for you, and seek immediate professional help.
Last Updated & Reviewed By: Jacquelyn Ekern, MS, LPC on January 26, 2016
Published on EatingDisorderHope.com