Effectiveness of Hospitalization Care for Children with AN: A Longer Term Solution, the goals of inpatient treatment is typically medical and nutritional stabilization. Research has shown that inpatient treatment is extremely effective in short term weight gain, and medical stabilization, the longer term benefits are more uncertain [3].
Treatment for Anorexia Nervosa (AN) typically includes treatment in inpatient, residential, or day programs. Studies however on effectiveness of treatment programs are limited. In a recent study teens were randomized to hospital treatment, CBT treatment or treatment as usual. Those in hospital received 15.2 weeks of hospital treatment which specialized in eating disorders [2,4]. The outcomes showed that hospitalized patients did not do better than those who received outpatient care.
Effects of Hospitalization for Anorexia
In order to determine the effectiveness of hospitalization, this involves looking at the medical issues that come with this disorder. Anorexia has various medical problems such as heart disease, lower blood counts, gastrointestinal issues, kidney, endocrine, and bones. Heart conditions can include low heart rate due to malnutrition, and also include fast, slow, or irregular heartbeat; slow heartbeat; and low blood pressure [5]. About ⅓ of individuals with anorexia have low red blood cell count and about 50% have low white blood cell count.
Gastrointestinal issues can include slow movement in the intestinal tract due to very restrictive eating and severe weight loss. Kidney issues stem from dehydration those with kidney issues can als have increased urine production when the kidneys ability to concentrate urine decreases. In females abnormal absence of a menstrual cycle, known as amenorrhea, is a common symptom of anorexia.
It occurs due to severe weight loss Also reduced levels of growth hormones are also found in children with anorexia and can cause delayed growth. Bones are also at risk with those with anorexia. Many individuals suffer from broken bones, and when anorexia starts before peak bone formation (mid to late teens), there is a greater chance for decreased bone tissues or loss. Most and often all of these symptoms are corrected with proper anorexia treatment and weight gain.
Understanding Treatment Goals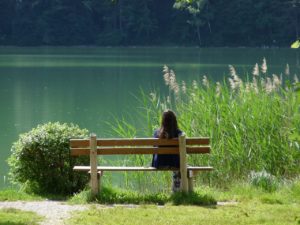 In various European countries, treatment for moderate to severe anorexia requires a lengthy stay in a hospital for weight restoration. In the United States inpatient treatment typically lasts about 1 month and is followed by outpatient treatment that is paired with the person's degree of illness [2].
Both inpatient and outpatient treatment are criticized for various reasons. Mostly, inpatient treatment is criticized for high relapse rates and return hospital stays, and is also very expensive. Outpatient treatment is criticized for individuals returning to hospital and unsatisfactory weight gain [2].
Resolution of Problematic Symptoms
In children with anorexia there are various symptoms to look for when considering the seriousness of the disease. Weight loss is children should be increase as a child ages, and static weight can be regarded as equivalent to weight loss in adults. Children have lower total body fat deposits and do not have much to lose, when weight loss occurs [6].
Food avoidance is another indicator, where many children refuse food, which is correlated with a fear of becoming 'fat' or 'obese.' Other reports of refusal of eating can be nausea, fullness, abdominal pain, appetite loss or difficulty swallowing [6]. Excessive exercise in children is not uncommon. Often exercise is done in secret with anorexia, in their bedroom or even bathroom. Also often in children with anorexia is excessive standing, fidgeting, or playing.
In a research study lead by Dr Herpertz-Dahlmann through the Department of Child and Adolescent Psychiatry at RWTH Aachen University in Germany, they looked at 172 females between 11-18 years old seeking treatment for moderate to severe anorexia from 2007-2010 [2]. On average girls weighed less than 98% of girls their age at the beginning of the study.
After three weeks in hospital, the researchers randomly assigned 87 of the girls to receive Intensive Outpatient program and in both cases all participants received the same therapies for anorexia.
The only difference was that the day program girls were able to go home at night. Participants remained in the study until the maintained a target weight for two weeks. It look 15 weeks for inpatients and 17 weeks for outpatients to reach that point [2].
At a 12 month follow up the researchers found that each group had improved and they also found that those in the outpatient program had improved mental health compared with those to inpatient [2, 1].
In conclusion, children with anorexia face various medical issues with this disorder. Hospitalization can be an effective treatment, but with various studies shows that it varies little in that of outpatient treatment results in weight restoration.
For children with severe anorexia, though hospitalization is highly recommended due to refeeding concerns and more constant medical monitoring that outpatient treatment cannot provide.
Hospitalization can also help with constant nursing and care for the anorexic child so families can feel a sense of relief in knowing they are not the sole caretaker in restoring their child's weight. Upon discharge, outpatient or a step down to partial or intensive outpatient programming can help with continued therapy, nutritional support, and weight maintenance.
---
About the Author: Libby Lyons, MSW, LCSW, CEDS is a specialist in the eating disorder field. Libby has been treating eating disorders for 10 years within the St. Louis area, and enjoys working with individuals of all ages.
---
References:
[1] http://eatingdisordersreview.com/nl/nl_edr_21_4_6.html
[2] http://www.huffingtonpost.com/2014/01/24/anorexia-outpatient-treatment-effective_n_4660853.html
[3] http://www.rch.org.au/cah/research/An_Examination_of_Inpatient_Treatment_for_Adolescents_with_Anorexia_Nervosa/
[4] https://www.ncbi.nlm.nih.gov/pmc/articles/PMC3083856/
[5] http://www.hopkinsmedicine.org/healthlibrary/conditions/pediatrics/anorexia_nervosa_in_children_90,P02554/
[6] http://www.bjmp.org/content/eating-disorders-children-and-adolescents
[7] https://www.adolescenthealth.org/SAHM_Main/media/Advocacy/Positions/June-14-Refeeding-hypophosphatemia-anorexia.pdf
---
The opinions and views of our guest contributors are shared to provide a broad perspective of eating disorders. These are not necessarily the views of Eating Disorder Hope, but an effort to offer discussion of various issues by different concerned individuals.
We at Eating Disorder Hope understand that eating disorders result from a combination of environmental and genetic factors. If you or a loved one are suffering from an eating disorder, please know that there is hope for you, and seek immediate professional help.
Reviewed By: Jacquelyn Ekern, MS, LPC on February 25, 2017.
Published on EatingDisorderHope.com