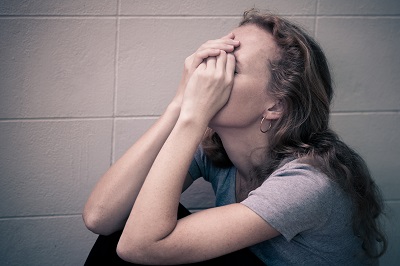 Contributor: Leigh Bell, BA, writer for Eating Disorder Hope
Cancer. The diagnosis is frightening when you or your loved ones receive it, even with a hopeful prognosis. The cataclysmic disruption cancer causes can lead middle-aged adults to seek solace in an eating disorder.
While it's unusual for an eating disorder to develop for the first time in middle-age, the number is rising of older adults with the mental illness. However, most middle-aged adults who develop eating disorders during bouts with cancer have historically struggled with an eating disorder, or at least serious body-image and/or food issues.
The stress of cancer may pluck the problem from the past and place it into the present.
No One Is Sure How Often Cancer Causes an Eating Disorder
Nobody is certain how often cancer causes or cloaks an eating disorder. Very few studies have been done on the topic, and the ones we can find involve adolescents, like one study on recovery of a 15-year-old girl from both anorexia and cancer. [1]
Cancer patients hand over control of their bodies to their doctors', to radiation and chemotherapy. Their bodies become a battle between modern medicine and tumorous cells. Their lives become a series of doctor's appointments, bouts of treatments, and doses of toxic medicine.
Loss of control is perhaps more acute in middle-aged cancer patients because they're also losing the grip on youthfulness in society that overvalues it; or it could be that many women never outgrow negative body image.
In a study of nearly 1,900 women aged 50 and older, 80% said their weight and body shape affected their self-image. Over 35% sayid they'd spent at least half their time dieting in the last five years. [2]
Feeling like the world is spinning out of control, cancer patients can regain command or rather, the allusion of it, with an eating disorder. Maybe they can't manage the cancer, but they can manage wants goes in and out of their bodies.
"Food restriction is the one thing that you can do to have some sense of control when everything is chaotic," said one woman in an interview with the New York Times on the subject of cancer and eating disorders. [3]
It's Easy to Hide Eating Disorders When Going Through Chemotherapy
It's easier to hide an eating disorder when a patient is going through treatment because chemotherapy is known to cause loss of appetite and nausea. They can cloak restriction and purging with cancer's side effects. Who would ask any questions?
In fact, it's normal for someone to fight cancer with special diets, as an adjunct or substitute treatment for the illness. Naturopathic alternative cancer treatments, from veganism to "juicing," could possibly look like disordered eating.
When the weight starts coming off, those past struggles with eating disorders or disordered eating can resurface. On the other hand, cancer treatments may eventually lead to weight gain, and when this happens, others could use disordered eating to offset the gain.
Chemotherapy In Middle-aged Women Can Cause Weight Gain
Weight increase during chemotherapy in middle-aged women is between 5-8 pounds, and some gain up to 25 pounds. [4] One reason is early menopause caused by cancer treatment and the hormones used to offset the loss of estrogen. Also, corticosteroids used to alleviate chemo-induced nausea can also cause weight gain.
Whatever body changes – weight loss or gain – cancer treatment causes, the answer may sadly be unhealthy for some middle-aged people who have historically battled eating disorders.
This is a dangerous answer, however. The bodies of older individuals are less than resilient and unable to tolerate the damage eating disorders can do. In fact, senior women comprise 78% of all deaths caused by anorexia, and 69 is the average women die from the disease, according to statistics given to the Breast Care Site by Dr. Emmett Bishop, medical director of adult services at the Eating Recovery Center.
Cancer is a terrifying diagnosis, but the truth is, most people survive the illness and go on to live full lives. Unhealthy eating and eating disorders only reduce the chances of cancer remission. Your body needs your help to fight the cancer, and if you work with it, rather than against it – talking out your feelings instead of acting on them – recovery is more likely
Community Discussion – Share your thoughts here!
What steps can you take towards healthy eating and away from an eating disorder during cancer treatment?
---
About the Author: Leigh Bell holds a Bachelor of Arts in English with minors in Creative Writing and French from Loyola Marymount University in Los Angeles. She is a published author, journalist with 15 years of experience, and a recipient of the Rosalynn Carter Fellowship for Mental Health Journalism. Leigh is recovered from a near-fatal, decade-long battle with anorexia and the mother of three young, rambunctious children.
---
References
[1]:
De Benedetta, G., Bolognini, I., D'Ovidio, S., & Pinto, A. (2011). cancer and anorexia nervosa in the adolescence: A family-based systemic intervention. International Journal of Family Medicine, 2011, 1-8
[2]: 
Gagne, D., Von Holle, A., Brownley, K., Runfola, C., Hofmeier, S., Branch, K. & Bulik, C., (2012). Eating disorder symptoms and weight and shape concerns in a large web-based convenience sample of women ages 50 and above: Results of the gender and body image (GABI) study. International Journal of Eating Disorders, 45: 832–844
[3]:
Kercher, S. (2015, July 27). When Cancer Triggers (or Hides) an Eating Disorder. New York Times.
[4]: 
Middle-Aged Women and Eating Disorders – The Breast Care Site. (2013, February 14). Retrieved December 15, 2015.
---
The opinions and views of our guest contributors are shared to provide a broad perspective of eating disorders. These are not necessarily the views of Eating Disorder Hope, but an effort to offer discussion of various issues by different concerned individuals.
We at Eating Disorder Hope understand that eating disorders result from a combination of environmental and genetic factors. If you or a loved one are suffering from an eating disorder, please know that there is hope for you, and seek immediate professional help.
Last Updated & Reviewed By: Jacquelyn Ekern, MS, LPC on January 25, 2016
Published on EatingDisorderHope.com