Those with eating disorders have all types of body shape and sizes. Too often the media portrays the image of beauty as thin [1]. In reality, many individuals who do struggle with anorexia do not appear to be underweight or malnourished.
For many eating disorders are a way to cope with situations that feel uncontrollable. Recovery includes hard work, intensive treatment, and a support team to offer therapy, nutritional rehabilitation, medical monitoring, and learning new ways to manage stress.
Anorexia has the highest mortality rate of any other psychiatric disorder and women aged 15-24 who struggle with anorexia are 12 times more likely to die from it than any other cause [2].
Accepting and entering treatment can be scary but is necessary for recovery. Often, individuals entering treatment have concerns over what to expect in treatment.
Reasons of Concern for Sufferers
Some sufferers feel that they will be the 'largest' in body size and shape in treatment, compared to other participants.
This thought, stemming from eating disorder thinking, is irrational and has to do more with fear of treatment and gaining weight than anything else. Many times the eating disorder's maladaptive reasoning is due to malnutrition in the body and brain.
The most prominent concern is weight gain, fear of what that will do for the individual or the pain that will open up emotionally for them.
In treatment, the focus is on getting better. The treatment is to focus on why the eating disorder is present, what co-occurring disorders exist, and to recover from the disorder itself.
Body acceptance and body image can be poor at any shape and size. Part of the treatment process is first to get you medically stable, then work on behaviors and thoughts, and lastly address body image.
Once your body and mind are fed, therapy can work, and a person can address the issues that keep them locked in the eating disorder disease. Body image treatment and work can help a person accept their body for what it does, not the way it looks.
Another common concern for sufferers is that they are not as sick as others, so they do not need treatment. A person is worthy of treatment and is ill enough to receive some level of anorexia nervosa treatment [3].
You are worthy of treatment and recovery. A sufferer entering treatment may not want treatment. It is okay to not 'want it' or be 'ready' for recovery.
Many times it is your treatment team, loved ones, or medical professionals who are urging you to seek treatment. The disorder distorts the mind and allows you to believe that you are healthy, you are ok, and that you do not need help.
It can be scary to let go of the eating disorder and 'friend' that you have come to know to comfort you in times of uncertainty and feelings of loss of control.
Recovery, however, is about being able to improve your self-esteem, self-worth, and acceptance of your genuine self.
You may not want treatment when you enter or feel like you deserve it, but will you begin to be able to separate from the disorder and see you're genuine you.
Telling loved ones and friends about your treatment can be difficult, especially if you find them a source of support. It can be essential to have your loved ones and friends supporting you in various ways while you are getting help.
Some individuals, however, do not want to share that they are going to treatment. If this is the case, it may be best to say nothing prior to going to treatment.
If you are sharing with friends and loved ones, it is easier to keep it simple, especially if they do not understand eating disorders. Just saying that you need extra help to live a better life is most often enough.
Many treatment facilities allow phones or laptop communication and having that connection to supportive people in your life can help keep you motivated for recovery.
Weight gain and the intensity of it is often a primary concern for individuals entering treatment. Many are concerned that the center will not know what the 'best weight' is for them or that the weight gain will be unrealistic.
Remember that professionals within in clinical setting work as a team, consulting with medical staff, nutritionists, and clinical staff to decide what is a healthy and reasonable amount of weight gain.
This goal is often readdressed weekly and try to include the patient in these goals as part of the recovery process.
Weight gain may seem fast at first and may be uncomfortable but recovery is about change, and anorexia treatment is about medical stabilization first.
The goal is to you to a point where your body is not fighting to survive, and then to restore your body to a realistic, healthy, and manageable weight.
Often many clients have jobs or are in school. Most facilities have tutors that will work with students to keep up with their coursework, so they are not falling behind classmates.
For those working, often it means taking a leave of absence or filing for a medical leave of absence. This can allow you to work on your recovery and still have a position or job when you discharge.
For many anorexia sufferers, it can be a relief to get away from life responsibilities and just focus on oneself and own health.
Other common concerns are that you have been to treatment so many times before and why would another treatment program work when others have not before?
The answer to this fear is that each treatment program provides some unraveling of the issues that maintain the disorder. Individuals complete programming learning something new or changing something about their disorder.
It is a step in the recovery process. This next time might be the time that works for you to let go of your disorder.
Regardless of the concerns to enter treatment, remember that it is about your health and recovery process. Thinking about recovery and be willing to try it shows that you have hope for recovery and that is it possible.
Remember to keep connected to those who support your recovery, and that you are unique and worth recovery.
---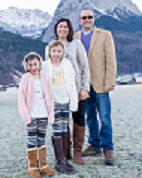 About the Author: Libby Lyons is a Licensed Clinical Social Worker and Certified Eating Disorder Specialist (CEDS). Libby has been practicing in the field of eating disorders, addictions, depression, anxiety and other comorbid issues in various agencies. Libby has previously worked as a contractor for the United States Air Force Domestic Violence Program, Saint Louis University Student Health and Counseling, Saint Louis Behavioral Medicine Institute Eating Disorders Program, and has been in Private Practice.
Libby currently works as a counselor at Fontbonne University and is a Adjunct Professor at Saint Louis University, and is a contributing author for Addiction Hope and Eating Disorder Hope. Libby lives in the St. Louis area with her husband and two daughters. She enjoys spending time with her family, running, and watching movies.
---
References:
[1] Eating Disorder Facts & Myths. (n.d.). Retrieved November 13, 2017, from https://eatingdisorder.org/eating-disorder-information/facts-myths/
[2] Resource Center. (n.d.). Retrieved November 13, 2017, from https://www.eatingrecoverycenter.com/families/portal/resource-center/myth-or-fact-the-truth-about-eating-disorders
[3] Burgunder, B. (2015, September 08). How To Face The 10 Fears Of Seeking Treatment For An Eating Disorder. Retrieved November 11, 2017, from https://www.elitedaily.com/life/eating-disorder-treatment-fear/1158967
---
The opinions and views of our guest contributors are shared to provide a broad perspective of eating disorders. These are not necessarily the views of Eating Disorder Hope, but an effort to offer discussion of various issues by different concerned individuals.
We at Eating Disorder Hope understand that eating disorders result from a combination of environmental and genetic factors. If you or a loved one are suffering from an eating disorder, please know that there is hope for you, and seek immediate professional help.
Published on December 10, 2017.
Reviewed By: Jacquelyn Ekern, MS, LPC on December 10, 2017.
Published on EatingDisorderHope.com