Recovery Story – April Ballard Warren
April Ballard Warren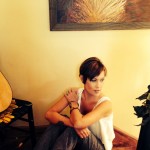 This is my story…
I am not even entirely sure where to begin to explain my journey over the past two years. I will begin with letting you know that recovery is possible. I am living proof of this. I have battled and am currently in recovery from both anorexia nervosa and bulimia nervosa. I, too, just as you may, believed that recovery was an impossible goal that I would never attain. I believed in my darkest hours, that I would be held prisoner by my eating disorders until I eventually surrendered to them completely.
However, I want to emphasize that recovery is possible. I would like to now tell you about me. I believe that while the eating disorders have been a major part of my life, they do not define me as a person. Therefore, I would like share a bit about who I am. I am a representative for Eating Disorder Hope/Addiction Hope, professor, photographer, sister, friend, lover of art, and believer of genuine kindness. I reside in the Bluegrass state of Kentucky.
I love teaching and am thankful for the opportunity to do so. The course that I teach encompasses a great deal of topics such as critical thinking skills, professional skills, and career exploration. I love learning and it is a goal of mine to inspire a love of learning as well. I am very thankful for my role with Eating Disorder Hope/Addiction Hope. It is one of my daily life goals to help those that suffer from eating disorders and addictions. It is with sincere intentions that I research treatment facilities, and work to advertise these centers to those looking for help.
I will begin by sharing with you that I have battled an eating disorder since I was an adolescent girl. The eating disorder reared its presence when I was twelve years old. I began by restricting my food intake here and there, and it just spiraled into the viscous darkness of full blown anorexia. My weight dropped quickly and dramatically, my hair fell out, and I was physically so weak at times that I could hardly walk across the floor.
During this time, the eating disorder was a major presence until I was about fourteen years old. At this time, I was able to make some improvements and increase my food intake. I was making healthier choices; however, the eating disorder never really left me and my thoughts. The past three years were a battle that seems terrifying to me at this point. I began to restrict more and more each day. I would weigh myself obsessively every single morning, and the most terrifying thought to me was if that number on the scale would rise.
In fact, I would do anything to keep it dropping each day. I was consumed with the lies and restricting. I had very few "safe" foods and refused to go outside of these foods.
At this point I would like to stop and remind you again that I am living proof that recovery is possible. I just want to keep repeating this so that it will hopefully seem possible to you as well. Trust me when I say that I truly did not believe that I would ever see another day in which the anorexia and bulimia were not controlling my every single thought and plan of the day. For three years I spent nearly every minute consumed with food in some way.
I was severely restricting my food intake to the point of maybe 200 calories on some days and eventually purging. These moments are truly the darkest and most terrifying moments of my entire life. I was completely apathetic toward life. I didn't know what it meant to genuinely smile or even feel anymore. Sometimes I would look in the mirror and literally have no idea where I had disappeared to or who I had become.
I was living as a complete prisoner to the eating disorders. The harm to my body of course manifested into many visits to the emergency room. I was in and out of the hospital several times and eventually hospitalized for pancreatitis. I had surgery and thankfully recovered, although the recovery process took quite a while. I remember thinking to myself in the hospital, is this all there is for me? I was in such a frail condition eighty one pounds, struggling to even get out of bed, and had basically given up on living a life free of anorexia and bulimia.
After two hospital stays and many visits to the emergency room, doctor visits, therapy sessions, and a lot of love and encouragement from family and friends, I have finally turned the corner and am now living in recovery. My journey has certainly not been easy.
In fact, it is without question the most difficult battle I have ever faced in my life. I am truly blessed to have the love and support of my family and friends. Without them I am not sure where I would be at this point. They have been there to support me, encourage me, and love me when I was truly not even myself. I can truly not say thank you enough for this kind of unconditional love.
Continuing, I understand the constant intrusive thoughts of an eating disorder, the apathy, being in a constant state of cold (physically and mentally), and at the core of everything, the pain; emotional and physical. I want to remind you yet again that you are not ever alone in your journey to recovery.
Please reach out to seek help. It is never too late to begin your life. I feel like life was on pause and has been here around me the entire time while I was living as a prisoner to anorexia and bulimia. I like to keep in mind the following quote:
"Hope is the thing with feathers…that perches in the soul
And sings the tune without the words
And never stops at all."
― Emily Dickinson