Contributor:  Kirsten Haglund, Community Relations Representative for Timberline Knolls and Founder and President of the Kirsten Haglund Foundation
Recovery is a beautiful thing. One experiences a kind of freedom and hope they may not have felt in years. It is a bumpy and imperfect road, but life on the other side of an eating disorder is full of life, energy, strength and peace.
Recovery from an eating disorder also often brings with it new desires, passions and goals. That is a very good thing! For me personally, my recovery brought on a strong desire to speak out about the danger of eating disorders, the possibility of a full recovery, and to advocate for things such as proper insurance coverage, access to quality care, and a decrease in stigma for those suffering.
It turns out, I am not alone in that desire. Many, many individuals who recover, and their families, end up being some of the most passionate and vocal advocates in the recovery community. They know firsthand what it is like to be in the depths of despair and to come out on the other side.
It is only natural to want to share that triumph and that joy with others. And that brings us to….
The Best Thing About Recovery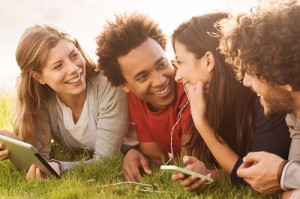 Something I realized about two years into a solid recovery was that my journey through an eating disorder wasn't just about discovering my own identity, finding my voice, learning how to respect my body and emotions, and healing relationships in my life. My purpose for struggling and recovering was bigger than me. As I slowly started to share my story – with the help and guidance of mentors and my treatment team – I learned how meaningful openness and vulnerability was to others. I realized that sharing my story could help others to open up and share theirs as well. It could start a conversation, spur people to get help, motivate those still on the recovery journey, and educate those who had no experience with the illness.
In my view, that is the best thing about reaching a healthy state of body, mind and soul. You are then equipped to reach out and discover the beauty in brokenness, and the power of communication and connection with others going through the same thing. The sharing of recovery stories is immensely powerful.
How Can I Advocate?
Anyone in recovery can share their story with others, but not all have such a public platform to be able to do so as I. The question becomes, "Now that I'm recovered, how can I use my voice to advocate for others?" I'd like to point you to a few ways, though there are many more – be creative!
Get involved with eating disorder organizations
The National Eating Disorders Association (NEDA), Binge Eating Disorders Association (BEDA) and Anorexia Nervosa and Associated Disorders (ANAD), and certainly Eating Disorder Hope (EDH) are good places to start. Share their websites and posts, read their articles and educate yourself, attend their conferences and webinars, go to Walks and events. Being a part of the broader ED community is a good way to get inspiration from other advocates and connect with those doing amazing work in the field.
Lobby!
The Eating Disorders Coalition (EDC) in Washington D.C. and NEDA's Star Program both lobby at the state and federal level for various eating disorder related policy initiatives, including insurance coverage, prevention efforts, research and education; each has had great success! Help them continue that success by signing up for their email lists, calling your congressman/congresswoman or senator when a bill comes up for a vote, or travel to your state capitol or even D.C. to lobby! It is an incredibly empowering experience, and don't be intimidated – politicians love hearing directly from their constituents. Your voice can create change! Also, there are always policy experts who go with you, so don't feel like you have to be a policy wonk to be convincing. Just share your story and you'll leave them impressed, and likely, emotional.
Make Your Presence Known in your Community, On and Offline
Offer to speak in your local public schools, city council meetings, or other local service organizations. Organize a fundraiser or other event to bring awareness or highlight stories of recovery. Or – use the tools at your fingertips that are found in social media! There's a lot of triggering content on the web, so you can be the best advocate by putting out positive messages on twitter, Facebook, and Instagram. Encourage your friends, post positivity, and be an example of healthy body image. You never know who may see it and be encouraged or inspired.
Remember to Take Care of Yourself First.
The most important piece of advice I ever received, from a fellow eating disorders advocate, was this: "You can't pour out from an empty cup." Meaning, you've got to take time and energy to "fill up" yourself. Always take care of YOU, in order that you can serve as a meaningful help to anyone else. During all your efforts to reach out and help others, make sure you stay connected with your treatment team or accountability partners. Make sure you're practicing healthy coping mechanisms. Make sure you are strong enough to set boundaries and know when to take a break. Passion to help others can be a strong motivator, but you can't help anyone unless you are strong and healthy yourself. 
There are many more ways to get involved and be an advocate for others–you can create your own ways. These are just suggestions! Let these ideas motivate you in your own recovery, because one of the best things about being healthy is that you get to share that joy and hope with others. You can be living proof that full recovery from an eating disorder is possible … and it is amazing.
Community Discussion – Share your thoughts here!
How has your recovery been impacted by someone that has walked a similar road?  Have you been encouraged to share your story to encourage others?  What impact has this had on you, what impact has it had on others?
---
About the author:
Kirsten Haglund will continue to work as an advocate for greater awareness of eating disorders and resources for care. Since she won the crown of Miss America 2008, she has spoken on more than 20 college campuses, worked with youth and church groups domestically and abroad, lobbied Congress with the Eating Disorders Coalition, and started her own non-profit, the Kirsten Haglund Foundation, to raise funds and assist families financially in seeking treatment for eating disorders.
---
The opinions and views of our guest contributors are shared to provide a broad perspective of eating disorders.  These are not necessarily the views of Eating Disorder Hope, but an effort to offer a discussion of various issues by different concerned individuals.  We at Eating Disorder Hope understand that eating disorders result from a combination of environmental and genetic factors.  If you or a loved one are suffering from an eating disorder, please know that there is hope for you, and seek immediate professional help.