Eating disorders stem from a combination of biological, psychological, and social factors. The biological and social factors, as well as some of the psychological effects, can stem from the individual's family.
This is not to say that the family is to blame for a person's eating disorder. The family system can both positively and negatively influence an individual.
Nonetheless, the family can play some sort of role in an individual's development of an eating disorder as they are part of the person's biological makeup and have some sort of social and psychological effect on the person during their upbringing.
When we discuss treatment for an eating disorder, we must think about how to include the family. Any systemic issues within the family should be addressed in order for the person to fully work through their recovery process and enter back into the family system in the most effective way possible.
How does the family, then, fit into eating disorder treatment? In some cases, it is not an option to include the family in treatment as they are either not around, do not have contact with the individual or refuse to be a part of treatment, etc.
In many cases, though, the family can become part of treatment in a variety of ways. Some of the ways families can be involved in recovery treatment are family therapy, Family-Based Treatment, individual collateral sessions with certain family members in the person's treatment, and visitation with the family during inpatient treatment.
The goal of including the family in therapy sessions is to have the family system be united and working collectively on the treatment goals for the patient. When the patient is out of treatment or working on an ongoing outpatient basis, they are often either in the care of their families or having some sort of interaction with them.
It's very helpful for the family members to have an understanding of what the individual has achieved so far in treatment, what they are struggling with, and what they are working towards. As Monte Nido says, "the family therapy sessions at eating disorder treatment centers aim to improve collaboration across the familial group to break down systemic issues. During these sessions, the patient, family, and therapist set realistic goals everyone can work together to accomplish" [1].
For the patient, knowing that they have a supportive family environment outside of treatment is a very powerful tool during treatment and recovery. The patient can lean on family members for emotional and physical support when needed, and they can have the understanding that they are not working alone but in conjunction with the whole family system towards their recovery.
Family-based Treatment, or the Maudsley method, is another very effective treatment option for young people with eating disorders. Family-based treatment is where the parents of the individual struggling are given full control of their child's food and are in charge of serving them their food at each meal and sitting with their child for the duration of meal-time.
As HealthyPlace.com shares, "A 2014 study from the Stanford University School of Medicine found family-based therapy approaches were twice as effective as individual therapy for adolescents with anorexia [2]. This treatment approach is thought to be so effective because it takes the control away from the patient, which follows the train of thought that the patient does not know what is best for them with their eating and can thus not be in the position to feed themselves.
HealthyPlace continues that, "…a randomized 2010 clinical trial revealed approximately half of the teens treated with family-based treatment met the criteria for full recovery after a year, compared to 23 percent of teens undergoing standard treatment." Family-based treatment can be incredibly successful and is an excellent way to involve the family in the Eating Disorder treatment process.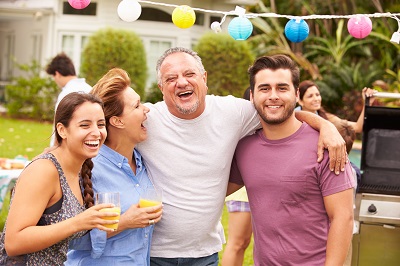 In addition to involving the family in the treatment process, it is important to note that when the individual does begin to recover, the family system can as well. Families can be and are greatly affected by one member being sick from an eating disorder, and a lot of healing can be gained through the recovery process.
As Arnold says, "A new study followed a group of 102 adolescent eating disorder patients and their families and indeed found a stressful family climate during acute illness. Recovery begins to ease all of these stresses, which thus improves family functioning" [3]. By involving the family in the treatment process, family members can feel more aligned and empowered to continue working together way past treatment has concluded.
When an individual is being treated for an eating disorder, we need to be looking at the larger system and environment that they live in. Effective treatment for an eating disorder often involves the family system because they are part of the individual's upbringing and also very often are a part of the individual's life beyond treatment.
Involving the family is an essential and effective aspect of treatment, when possible, and can be very healing for both the patient and the entire family system long term.
---
References:
Monte Nido (2019). Exploring the Role of Individual, Group and Family Therapy in Eating Disorder Recovery. http://www.montenido.com/family-therapy-in-eating-disorder-recovery/
HealthyPlace.com (2016, June). Family-Based Therapy for Eating Disorders- 5 Critical Parts. Walden Behavioral Care. http://www.waldeneatingdisorders.com/blog/family-based-therapy-for-eating-disorders-5-critical-parts/
Arnold, Carrie (2011, July 28). The Real Relationship Between Families and Eating Disorders. Psychology Today. http://www.psychologytoday.com/us/blog/body-evidence/201107/the-real-relationship-between-families-and-eating-disorders
---
About the Author:
Emma Demar, LMSW is a therapist at Intrinpsych Woman on the Upper East Side of Manhattan. She holds an LMSW from Fordham University and holds a BA in Creative Writing from Trinity College. Emma recently completed a 2-Year Fellowship at Intrinpsych where she was expertly trained in Eating Disorders and DBT.
She uses a holistic approach in working with her patients, drawing from her background in Psychodynamic, CBT, and DBT, and she likes to begin where the client is and work from a strengths-based perspective. She specializes in Eating Disorders, OCD and related mental health disorders. Emma uses a direct, honest and open approach in working with her patients, who are generally women ages 12 to 32. She freelance writes for various mental health websites, and she blogs on her own website, thattrendytherapist.com.
---
The opinions and views of our guest contributors are shared to provide a broad perspective of eating disorders. These are not necessarily the views of Eating Disorder Hope, but an effort to offer a discussion of various issues by different concerned individuals.
We at Eating Disorder Hope understand that eating disorders result from a combination of environmental and genetic factors. If you or a loved one are suffering from an eating disorder, please know that there is hope for you, and seek immediate professional help.
Reviewed & Approved on December 6, 2019, by Jacquelyn Ekern MS, LPC
Published December 6, 2019, on EatingDisorderHope.com