ARFID and eating disorders are more common than once believed co-occurring disorders among youth and treatment can be challenging, but manageable for families.
What is ARFID
Avoidant Restrictive Food Intake Disorder (ARFID) is a disorder that affects kids and is typically described by caregivers as picking eating or highly restrictive eating. Symptoms consist of a pattern of disordered eating with lack of interest in food and poor appetite.
Children with ARFID typically have fears about negative reactions when eating, such as vomiting, choking, or having an allergic reaction [1].
The patterns around eating are also coupled with significant weight loss or failure to gain weight according to growth standards, nutritional deficiency such as anemia, impaired psychosocial functioning due to malnutrition, as well as dependence on supplemental food sources or even a feeding tube.
Often failure to thrive is also a concern as many children will fall off the growth charts for typically height and weight.
Malnutrition is often seen as fatigue, weakness, brittle nails and dry hair, as well as difficulty, concentrating. Comorbid issues such as depression and heightened anxiety are also typical with this disorder. Children with this disorder do not typically present with distorted body image issues, but more fear around food and restrictive eating.
Eating Disorder or Not?
ARFID is the second most prevalent eating disorder in youth 12 years and younger, and diagnosis rates are between 8-14% within the eating disorder setting [1]. ARFID can be diagnosed at any age, and typically those with this disorder are also at risk for other disorders such as depression and anxiety.
Treating ARFID as an Eating Disorder
Treatment for ARFID and Eating Disorder Treatment for Youth requires a multidisciplinary team to be able to provide nutritional therapy, medical management, and psychological treatment [2].
Even though ARFID falls within the eating disorder subsets for youth, it varies from anorexia in that there is no preoccupation with body image, fear of weight gain, or a drive for thinness.
Treatment plans typically consist of weekly family therapy, individual therapy for the child, psychiatry for medicine management, and nutritional support to establish consistent eating, and opening up a variety of foods.
Often Family Based Therapy is used to have caregivers and/or parents take control over the child's preparation, plating, and completion of meals/snacks. Family therapy works to address and support the parents on best practices for this, typically using the Maudsley Model as a treatment approach.
Treatment modalities for individual therapy are usually centered around anxiety, negative thinking patterns around food, and cognitive distortions.
Often clinicians will work with a child to be able to practice coping skills, distress tolerance around heightened emotional situations, such as new foods or increased food variety.
Cognitive therapies, as well as behavioral therapies, are often best for modalities when working with this population to address the distress and eating disturbances in the person.
Nutritional support is focused on getting the child to eat consistently throughout the day to reestablish hunger cues as well as working on slowing introducing new foods and variety to the child's diet.
Weekly weigh-ins are imperative to be able to track weight gain or loss. Training by both the nutritionist/dietician as well as a therapist is essential to be able to work with the entire family in Family Based Therapy.
This type of modality is helping the parents align as a unit and work toward the common goal of re-feeding their child and weight restoration. This involves parents learning what foods are best for weight restoration, as well as taking control over their child's food and intake.
Medical treatment includes regular visits with a primary physician who understands ARFID. Treatment consists of monitoring weight loss or gain, possible hospitalization for malnutrition and refeeding.
Picky Eating…Is it ARFID?
How this differentiates from picky eating is that picky eating is usually defined as occurring in children who are of healthy, normal weight but consume a limited range of foods.
Some typically behaviors are little range of food variety, an unwillingness to try new foods, and aberrant eating patterns. Kids with this type of eating pattern may not eat certain foods due to texture, consistency, color, or even smell [2].
ARFID rates range from 5%-14% within the pediatric eating disorder population, and as high as 22% in the pediatric eating disorder outpatient programs [2]. Typically males are more common to have ARFID than females.
Children with this disorder are generally younger in age than youth that has an eating disorder, and those with ARFID are more commonly diagnosed with comorbid diagnoses and medical complications.
In conclusion, ARFID and Eating Disorder Treatment for Youth is a bit more challenging as it is characterized as an eating disorder but does not have all the symptoms of anorexia.
With prior research and case studies, the treatment that involves family therapy, individual therapy, medical monitoring, nutritional therapy, and psychiatric care provides the best outcome for those children struggling with this disorder.
---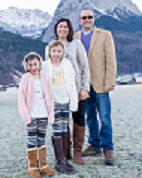 About the Author: Libby Lyons is a Licensed Clinical Social Worker and Certified Eating Disorder Specialist (CEDS). Libby has been practicing in the field of eating disorders, addictions, depression, anxiety and other comorbid issues in various agencies. Libby has previously worked as a contractor for the United States Air Force Domestic Violence Program, Saint Louis University Student Health and Counseling, Saint Louis Behavioral Medicine Institute Eating Disorders Program, and has been in Private Practice.
Libby currently works as a counselor at Fontbonne University and is a Adjunct Professor at Saint Louis University, and is a contributing author for Addiction Hope and Eating Disorder Hope. Libby lives in the St. Louis area with her husband and two daughters. She enjoys spending time with her family, running, and watching movies.
---
References:
[1] Avoidant-Restrictive Food Intake Disorder (ARFID). (n.d.). Retrieved September 06, 2017, from https://www.nationaleatingdisorders.org/avoidant-restrictive-food-intake-disorder-arfid
[2] Norris, M. L., Spettigue, W. J., & Katzman, D. K. (2016). Update on eating disorders: current perspectives on avoidant/restrictive food intake disorder in children and youth. Retrieved September 06, 2017, from https://www.ncbi.nlm.nih.gov/pmc/articles/PMC4725687/
Neuropsychiatr Dis Treat. 2016; 12: 213–218. Published online 2016 Jan 19. doi: 10.2147/NDT.S82538
---
The opinions and views of our guest contributors are shared to provide a broad perspective of eating disorders. These are not necessarily the views of Eating Disorder Hope, but an effort to offer discussion of various issues by different concerned individuals.
We at Eating Disorder Hope understand that eating disorders result from a combination of environmental and genetic factors. If you or a loved one are suffering from an eating disorder, please know that there is hope for you, and seek immediate professional help.
Published on October 15, 2017.
Reviewed By: Jacquelyn Ekern, MS, LPC on October 15, 2017.
Published on EatingDisorderHope.com